If you need a good, sturdy sandwich roll, these Pretzel Sandwich Buns are delicious bready conveyances.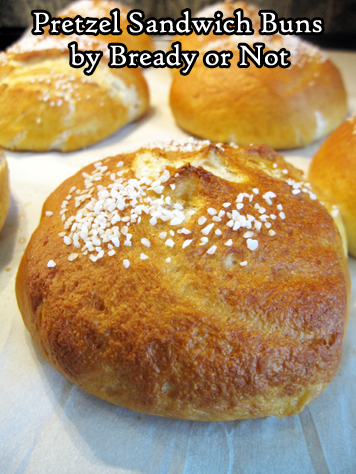 With my husband home a lot more in 2020, I revisited some bread recipes I hadn't made in years. This is one of them, which I originally featured on Bready or Not in 2014.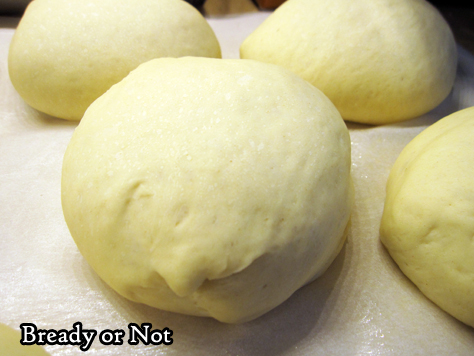 I rewrote the recipe to clarify some things. The recipe is a fine one to do in a KitchenAid (yay, bread hook!), but I really like making this dough in my bread machine. Add the ingredients in whatever order is specified by your machine; for me, that means liquid ingredients first.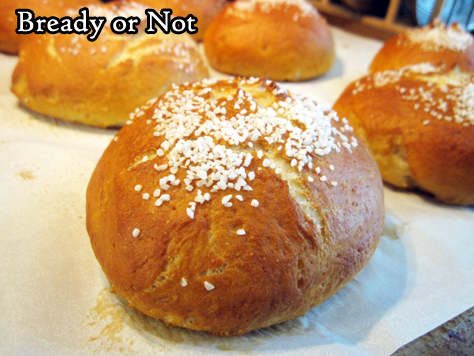 When it is time to do the water bath, be vigilant! That baking soda makes the water especially turbulent and foamy.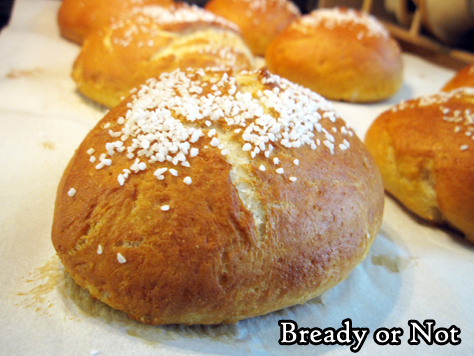 These rolls are great for things like shredded pork with BBQ sauce. They don't get soggy and dissolve in your hands. Also, these are just straight-up good split in half, buttered, and heated in the oven.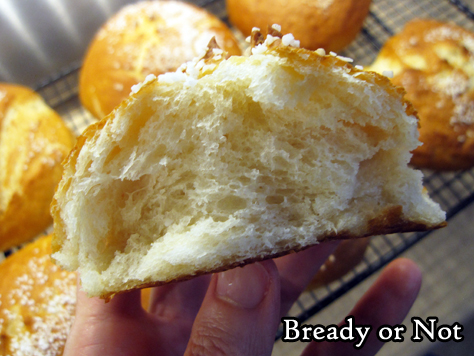 2020 was a sucky year, but at least it enabled me to rediscover some recipes like this one!
Modified from King Arthur Flour.
Bready or Not: Pretzel Sandwich Buns
These chewy buns are great for sandwiches that tend to be saucier or juicier, as the crumb has a fantastic, durable pretzel texture. Shape them into buns big or small, or elongated to fit sausages. Modified from a King Arthur Flour recipe.
Ingredients
Dough
1 3/4

cups

warm water

2

Tablespoons

unsalted butter

softened

3/4

teaspoon

salt

4 1/2

cups

all-purpose flour

or bread flour

1/4

cup

nonfat dry milk

2

teaspoons

instant yeast
Topping
pretzel salt

or substitute kosher salt
Water Bath
2

quarts

water

1

Tablespoon

salt

1/4

cup

baking soda
Instructions
Mix and knead the dough ingredients by hand, mixer, or bread machine to make a smooth, slightly sticky dough. If making by hand or mixer, allow the dough to rise in a lightly greased bowl, covered, for about 1 hour, until doubled. In a bread machine, let the full dough cycle run through.

Gently deflate the dough, and transfer it to a lightly floured work surface. Shape the dough as necessary. This can mean weighing the dough then dividing it into portions, or using a biscuit cutter or other shaper to slice. Note that if the dough is being cut, keep it thick, as it won't double on the second rise. Recipe can make about 5 to 6 big sandwich rolls. Roll dough with hands with smooth out the shape.

Place the balls on a lightly greased baking sheet, cover with plastic wrap, and let rest for 15 minutes.

While dough rests, preheat the oven to 400-degrees and prepare the water bath for the stovetop. In a large pot, bring the water, salt, and baking soda to a boil.

Use a slotted spoon to gently lower several dough balls at a time into the water bath. Cook for 30 seconds, flip over, and cook for 30 seconds longer. Using the slotted spoon, return the buns to the baking sheet.

Use scissor or a sharp knife to cut half-inch deep crosses into the center of each bun. Sprinkle with coarse salt.

Bake buns for 20 to 24 minutes (or a lower time, if they are shaped smaller). They should be nicely brown all over. Transfer to a rack to cool.

Buns will keep well in a sealed bag at room temperature for up to 2 days. The bread is great at room temperature or warmed in an oven or toaster oven. The rolls can be frozen, but note that the top can sog slightly when they are thawed, which isn't a problem if the rolls are heated/toasted to be eaten.