I'm all about making goodies from scratch, but sometimes speedy shortcuts are the way to go. Thanksgiving is tomorrow, after all.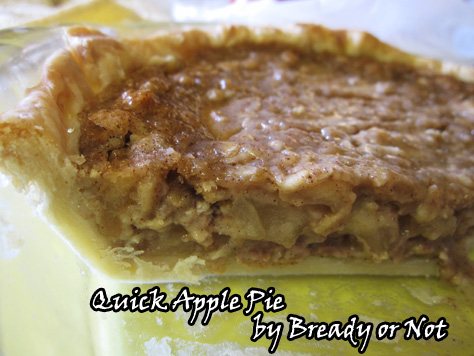 This apple pie comes together in about ten minutes. The big shortcut element is a can of pie filling. Mind you, I haven't used pie filling in about a decade, and I was amazed at how much faster the process went. Peeling, coring, and slicing apples takes up time.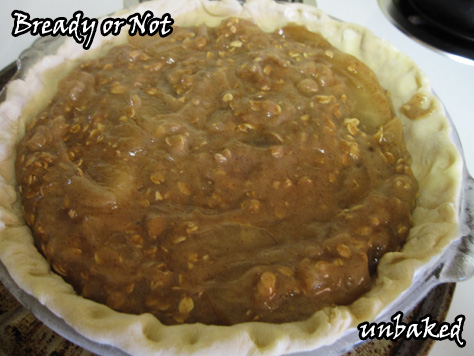 I used a Comstock apple caramel can. I did miss the firmer texture of fresh-cut apples, but the overall pie was just fine.
My husband described it as being "like a big oatmeal-apple cookie."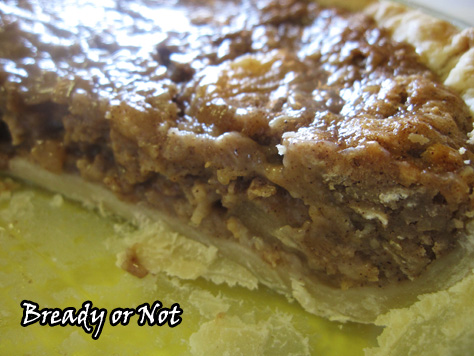 I used my homemade crust recipe–shown below–but use a store-bought type if you need to. It's holiday time. Time is precious.
Pie is precious, too.
Modified from Caramel Apple Crumble Pie at Averie Cooks.
Bready or Not: Basic Pie Crust
A basic, reliable pie shell recipe. Great for sweet pies! Reduce the sugar, and use for savory pies, too!
Ingredients
3

cups

all-purpose flour

1

Tablespoon

sugar

1

teaspoon

fine salt

1

cup

unsalted butter

2 sticks, cold, cut into cubes

3/4

cup

ice water
Instructions
Make dough hours in advance or the night before. In a medium mixing bowl, whisk together the flour, sugar, and salt. Add in the cold butter cubes, and either use a pastry blender or pulse the ingredients in a food processor until the butter is pea-sized.

Pour in the cold water and pulse/mix together until the dough forms a loose ball. I like to use my hands at this point. The dough may be sticky, but it will firm up well.

Pour dough onto a floured surface. Divide into two balls and fallen them into discs. Wrap each disc in parchment paper, then in plastic wrap. Refrigerate at least one hour before placing in pie dish, or freeze for up to 3 months.

Roll out the refrigerated dough into a 12-inch round. Press it into a 9-inch dish, trimming the excess and pinching the edges. Wrap loosely with plastic wrap and freeze at least two hours before using, or keep frozen up to three months.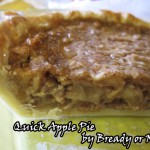 Print Recipe
Bready or Not: Quick Apple Pie
This shortcut recipe uses canned apple pie filling and your own mix of spices to create a dish that's like an oatmeal-apple pie hybrid. Perfect for when you don't have fresh apples handy or you need a pie ready, pronto!
Ingredients
1/4

cup

unsalted butter

half stick, melted

1

large egg

room temperature

3/4

cup

white sugar

1/4

cup

brown sugar

packed

1 1/2

teaspoons

vanilla extract

1

teaspoon

cinnamon

heaping

1/4

teaspoon

allspice

1/4

teaspoon

ground cloves

1/4

teaspoon

salt

optional and to taste

3/4

cup

all-purpose flour

3/4

cup

old-fashioned rolled oats

21

ounce

canned apple pie filling

9

inch

frozen pie crust

homemade or store-bought
Instructions
Preheat oven to 350F. Set out the pie shell on a cookie sheet.

In a large microwavable bowl, melt the butter. Allow it to cool for about 5 minutes, then stir in the sugars, vanilla, cinnamon, allspice, cloves, and salt. Whisk in the egg until batter is smooth.

Add the flour and oats until just combined, then gently fold in the apple pie filling. Pour everything into the pie shell; it will come up to the brim.

Bake for 50 to 60 minutes, or until top has set. Allow it to cool at least 30 minutes before slicing.

Pie keeps for days, covered by foil in the fridge.

OM NOM NOM!