Brace yourself: I've been experimenting with biscotti, and this Snickerdoodle version is the first of several you'll see this year!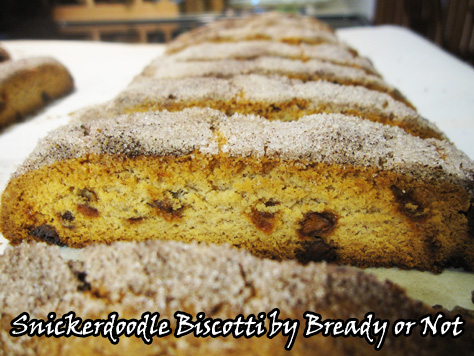 Yes, these really do taste like Snickerdoodles, only in a crisper, more dunk-able form. I even added cream of tartar to the recipe, to amp up the Snickerdoodliness. (That should totally be a word.)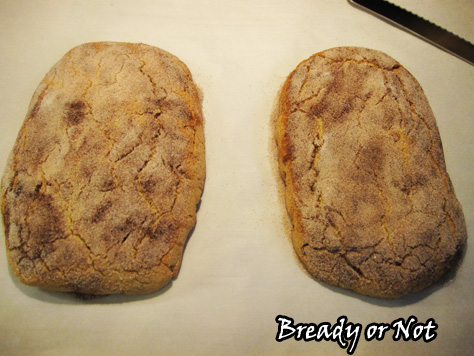 For years, I have said that I dislike biscotti. That's because the only kind I ever tried came from the grocery store, and it was HARD. Like, "this could break my teeth," hard. It didn't help that I don't drink coffee and therefore had nothing to dip the biscotti into to soften it.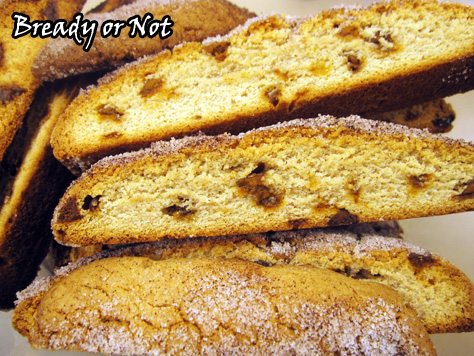 Then the Great British Bake Off featured biscotti and my interest was piqued. The bakers made it look easy. Doable. And the fresh version was supposed to be crisp, not teeth-shatteringly hard.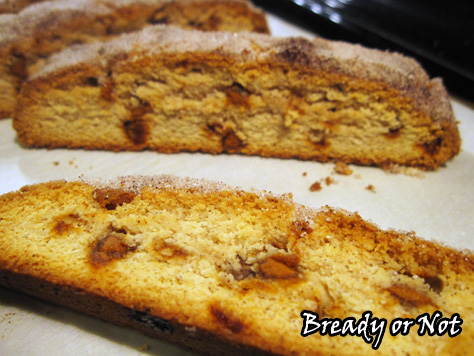 I hunted down some recipes. I started baking. I discovered, once again, that the Great British Bake Off abounds in wisdom. Homemade biscotti is easy and tasty.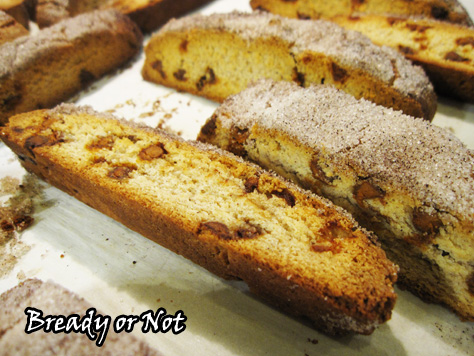 These Snickerdoodle Biscotti are fantastic for Snickerdoodle lovers. The cinnamon-sugar top makes these even look and smell like the cookie version, and the flavor….!
Oh yeah. Snickerdoodliness.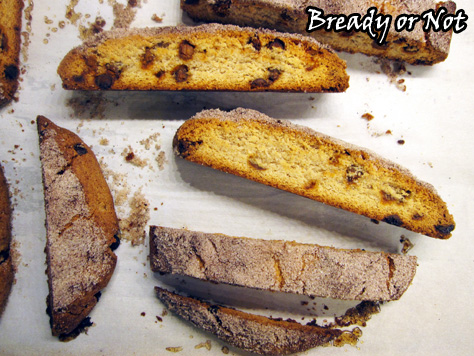 Because these are biscotti, they keep well for a few weeks, too. That makes these great to stash away or to even ship across distances.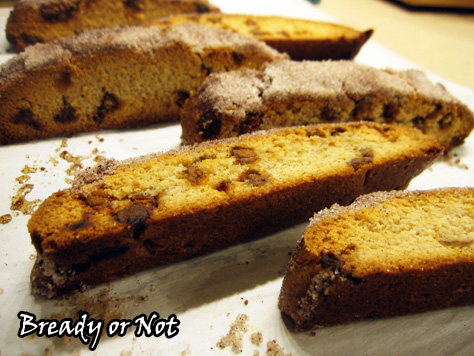 And even if they go stale, I bet you they are still a million times better than the grocery store version.
Modified from Brown Eyed Baker.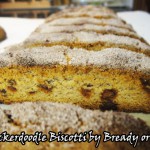 Print Recipe
Bready or Not: Snickerdoodle Biscotti
These Snickerdoodle Biscotti are easy to make and stay delicious for weeks. With a cinnamon-sugar top and cinnamon chips throughout, these twice-baked cookies are pure happiness for the Snickerdoodle lover in your life.
Ingredients
biscotti
2 3/4

cups

all-purpose flour

1 1/2

teaspoons

ground cinnamon

1

teaspoon

baking powder

1/2

teaspoon

cream of tartar

1/2

teaspoon

salt

1/2

cup

unsalted butter

1 stick, room temperature

1

cup

white sugar

2

eggs

room temperature

1

teaspoon

vanilla extract

1/2

cup

cinnamon chips
topping
1/4

cup

white sugar

1

teaspoon

ground cinnamon
Instructions
Preheat oven to 375-degrees. Line a baking sheet with parchment paper; set aside.

In a medium bowl, whisk together the dry ingredients: flour, cinnamon, baking powder, cream of tartar, and salt.

In a large bowl, cream together the sugar and butter on medium speed until light and fluffy, 3 to 5 minutes. Scrape the sides of the bowl often. Add the eggs, one at a time, followed by the vanilla. Gradually add the dry ingredients, mixing just until a dough forms. Finally, mix in the cinnamon chips.

Divide the dough in half on the prepared baking sheet. Form each into a log about 4 inches wide and 10 inches long; make sure there is space between the two logs, as they'll grow in the oven.

Mix together the topping ingredients and sprinkle over both dough logs.

Bake about 25 minutes, until the biscotti is lightly browned with small cracks forming across the top. Remove the baking sheet from the oven, but be sure to leave the oven on.

Let the biscotti cool for 10 minutes. Use a large knife, such as a bread knife, to diagonally slice the logs 1/2-inch apart. Use a straight-down motion to cut; don't saw.

Arrange the biscotti spaced out on the baking sheet. Stand them up if possible, or lay them on their sides. Bake for another 15-20 minutes, flipping them over halfway if necessary, to equally crisp both sides.

Cool completely on the baking sheet. Store in an airtight container as long as a few weeks.

OM NOM NOM!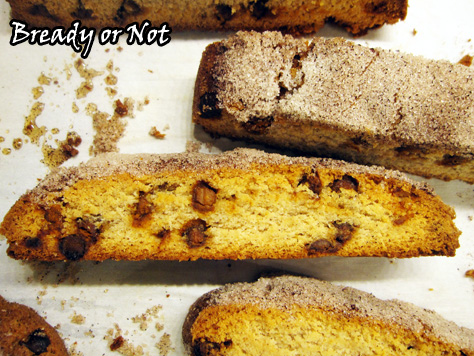 Save
Save