With Cinco de Mayo two days away, let's revisit a classic Holy Taco Church recipe: Stuffed Churro Nuggets.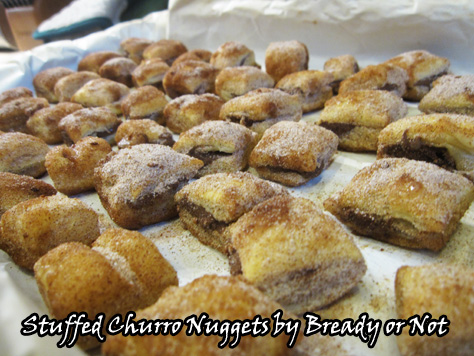 This recipe is EASY. It uses store-bought puff pastry. (I mean, you can use a homemade version, but even the great Mary Berry of the Great British Bake Off says she prefers the store kind.) I haven't tried it with gluten-free puff pastry, but I know that it exists; if anyone uses that with this recipe, let me know how it turns out!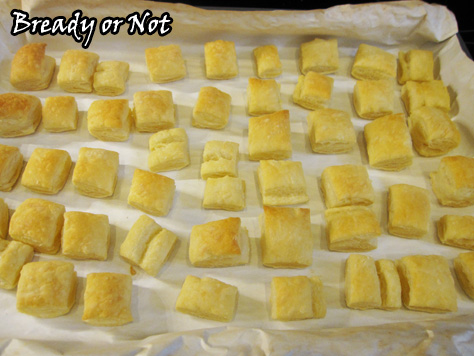 You can choose whatever filling you want. I like to make this and fill half with Nutella and half with Dulce de Leche, but you could try this with any kind of thick, spreadable delicious stuff.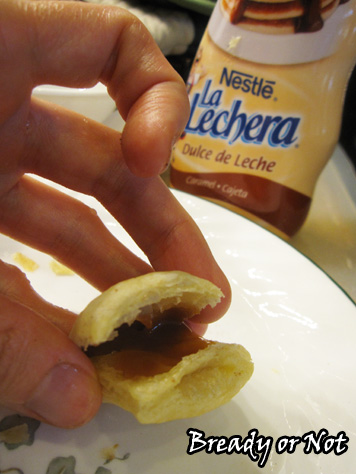 Maybe try peanut or other nut butters? Or maple butter? (OOOOOOOOH.) But trust me, you can't go wrong with Nutella and Dulce de Leche (and if you can find the squeeze bottle Dulce de Leche, it's especially convenient).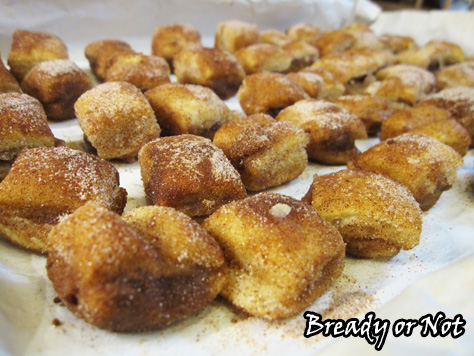 These nuggets are best eaten the same day, but if you take this to any sizable gathering, that won't be a problem. These are a perfectly-sized hors d'oeuvres, and I doubt that anyone will have just one!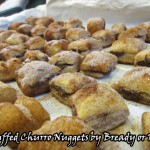 Print Recipe
Bready or Not: Stuffed Churro Nuggets
Stuffed Churro Nuggets are super-easy to make thanks to store-bought puff pastry and handy fillings like Nutella and Dulce de Leche. Nuggets are best eaten the same day.
Ingredients
Nuggets
1/2

package

puff pastry

1 bag out of a 2 pack box

1/4

cup

unsalted butter

1/2 stick

1/2

cup

white sugar

1

Tablespoon

cinnamon
Choose your stuffing! One of these or something else
Nutella

Dulce de leche

squeeze bottle, can, etc
Note that if your filling is stiff, you can make it more spreadable with a zap in the microwave. Make sure you do so in a microwave-safe container.
Instructions
Let puff pastry come to room temperature. Preheat oven at 425-degrees.

Get out a large cookie sheet and line it with parchment paper. Unfold puff pastry onto the surface and use a pizza cutter to quickly cut the dough into 1-inch cubes.

Bake for 10 to 15 minutes, until the squares are puffed and golden.

Set out whatever will be used to stuff the nuggets. Mix together the sugar and cinnamon in a bowl. In another bowl, melt the butter.

Remove the puff pastry from the oven. Pop open each cube by removing the top completely or opening it as if on a hinge--it's surprisingly easy, with those flaky layers--and add a dab of filling. Close the pastry, then roll it in butter and then in cinnamon-sugar.

Churro Nuggets are best eaten the same day. Store them in a sealed container, with parchment or waxed paper between layers.

OM NOM NOM!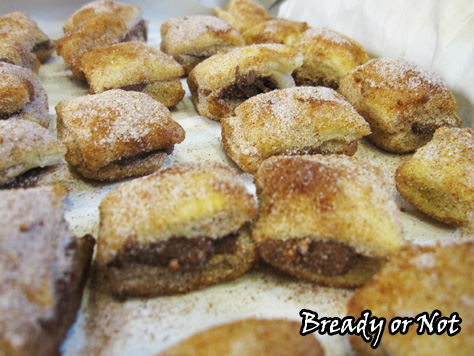 ---