The Clockwork Crown is out! YAAAAAY! Now here's the cake to celebrate. THE cake. The infamous Tunnel of Fudge Cake.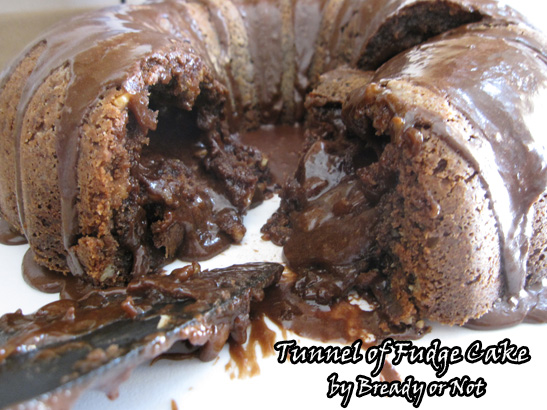 I originally posted this back in May 2012. I figured that for this splendiferous occasion, it deserved a repost. This is one of the most amazing cakes I have ever encountered. I mean, LOOK AT IT.
You just gained five pounds by looking at that picture. I'm sorry.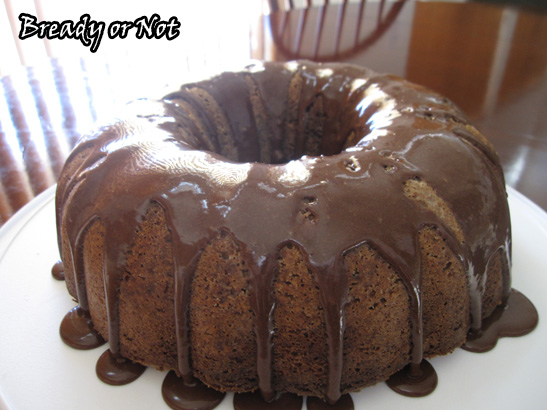 To quote my original post:
As you can see, it's a bundt cake. It cooks up and creates its own middle layer of fudge inside. When the cake is fresh, it oozes out in an amazing way. After it has been in the fridge, honestly, it tastes even better. The middle solidifies so it's like there are two layers of fudgy frosting, one on the inside and one on the outside. You also have this whole mingling of textures thing going on: cakey chocolate, fudgy chocolate, chocolate glaze, walnuts, chocolate, chocolate, chhhhhhocolate.
If you don't like nuts or have allergies–sorry, this cake really does need them. I think they provide some scaffolding for the massive quantities of chocolate.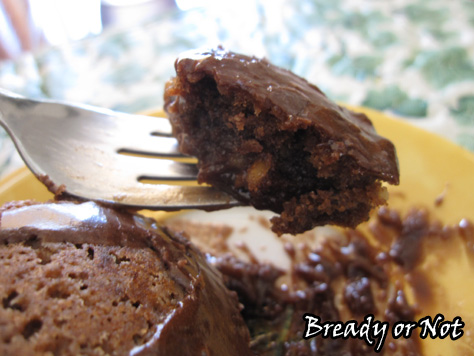 I can add some experience from making this a few times, too. The leftovers are easy to handle. Line a small pan with wax paper. Slice the cake however you want and place the pieces on the pan. Freeze them. Bag them. When you want to serve a slice, remove from freezer and zap it in the microwave until it's as thawed or hot as you want.
Recipe is adapted from Relish Magazine, and originally in Bundt Cake Bliss by Susanna Short.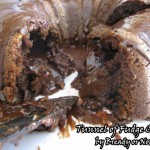 Print Recipe
Bready or Not: Tunnel of Fudge Cake
The ultimate cake for any chocoholic. The core is like fudge. It's even better after a day in the fridge.
Ingredients
Cake:
2 1/4

cups

all-purpose flour

3/4

cup

cocoa powder

sifted

1 3/4

cups

white sugar

1 3/4

cups

unsalted butter

room temperature

6

eggs

room temperature

2

cups

confectioners' sugar

sifted

2

cups

walnuts

or pecans, chopped
Glaze:
3/4

cup

confectioners' sugar

sifted

1/4

cup

cocoa powder

sifted

2 - 3

tablespoons

milk

or half and half
Instructions
Preheat oven to 350-degrees. Grease a 12-cup Bundt pan. One option is to melt 1tablespoon butter, mix 1 tablespoon of cocoa powder into it, then brush the sides of the bundt pan. Or use nonstick spray or butter and sprinkle flour or cocoa powder into the pan.

In a small mixing bowl, combine flour and cocoa powder and set aside.

In a large bowl, cream sugar and butter until light and fluffy. Add the eggs, one at a time, beating well after each addition. Gradually add confectioners' sugar and mix thoroughly. Stir in flour mixture by hand until well blended. Gently stir in nuts. Batter will be thick and rather mud-like. Spoon all of the batter into the prepared bundt pan.

Bake 45 to 50 minutes or until the top is set and the edges begin to pull away from sides of pan. Do NOT use the toothpick test. You don't want the center to solidify with this cake.

Cool cake upright in the pan on a wire rack for 1 1/2 hours to allow fudge to set. Invert onto a plate to cool thoroughly. Make sure the cake is completely cool before you add the glaze.

To prepare glaze, combine sifted confectioners' sugar and cocoa. Add 2 tablespoons milk. Mix thoroughly, and add more milk if needed to create a smooth but pourable glaze. Spoon glaze over top of cake, allowing some to run down sides.

This can be eaten fresh but is even better after being in the fridge overnight. The chocolate flavor deepens. It can also be frozen in slices and thawed/warmed in microwave.

OM NOM NOM and take an insulin injection.