The Clockwork Crown is out next week, and that means this is CAKE MONTH on Bready or Not! We start that off with a glorious layer cake that tastes like a fresh version of a Twinkie.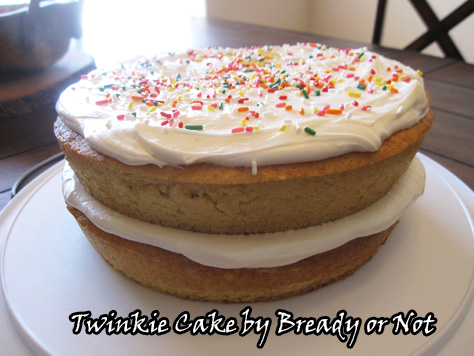 Seriously, that's what this is. A totally fresh, melt-in-your-mouth version of a Twinkie.
I wanted to make this from scratch because I believe in making my life extra difficult. I found this awesome yellow cake recipe at Mel's Kitchen. I used the dry ingredients to form my base of the Twinkie Cake.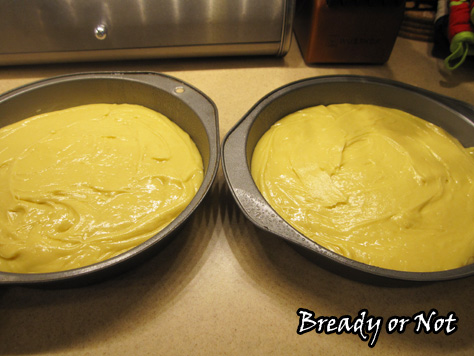 The good news is that you can make this using a store-bought mix–heck, you could even do it gluten-free!
The marshmallow frosting here is amazing. It's not overly sweet but it does pack a sugar wallop. Eat a few slices of this and you might have trouble sleeping tonight.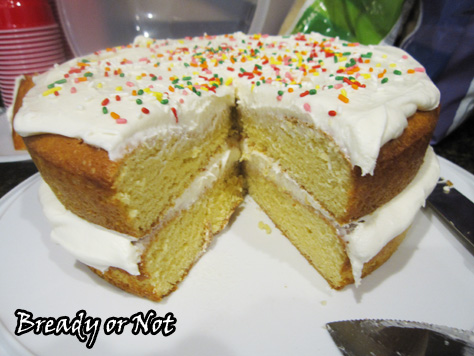 Varied reactions to this cake: "It's… a Twinkie. That you made?" "Wow." "You are trying to murder me with diabetes." "Good grief." "Don't tell my doctor I'm eating this."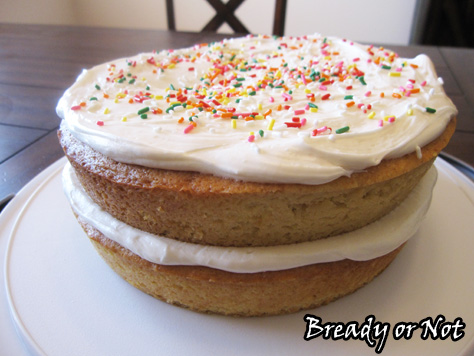 One funny note, too. This was at room temperature for a few hours at a party. When it was down to about a quarter of the cake, the top layer kept sliding off. The frosting layers didn't budge and the yellow cake didn't even crumble. I kept going over to slide it back into place again because I'm OCD like that.
Finally, I told my husband we had to finish the cake because it didn't look right.
The things I do.
Yellow cake mix modified from Mel's Kitchen and Twinkie Cake modified from Confessions of a Cookbook Queen.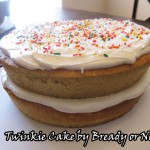 Print Recipe
Bready or Not: Twinkie Cake
Tastes like a fresh, fluffy version of a Twinkie! Can be made from-scratch or with store-bought yellow cake mix.
Ingredients
(Or disregard this section and use a boxed yellow cake mix)
2

cups

white sugar

1 1/2

cups

all-purpose flour

1 1/2

cups

cake flour

1/2

cup

nonfat dry milk powder

1

Tablespoon

baking powder

1

teaspoon

salt
Add to cake mix:
5.1

oz

box instant vanilla pudding

large box

2

teaspoons

vanilla extract

1

cup

water

1/2

cup

salted butter

1 stick, melted and cooled slightly

4

large eggs

lightly beaten
Filling/Frosting:
1/2

cup

salted butter

1 stick, room temperature

1/4

cup

heavy cream

1

teaspoon

vanilla extract

7

oz

marshmallow creme

3 1/2

cups

confectioners' sugar

sifted

rainbow sprinkles

if desired
Instructions
Preheat oven to 350-degrees. Butter or add nonstick spray to 8 or 9 inch round cake pans, then cut out parchment rounds to place inside each pan, then butter or spray again.

Combine the dry ingredients of the cake mix (this can be done a day or two ahead of time) or open up a box of yellow cake mix.

In a large bowl, combine the eggs and butter. Slowly add the cake mix (homemade or store bought), pudding mix, vanilla extract, and water. Beat on medium for a minute or so, until it's smooth and thick.

Spread batter in the prepared pans. Bake for 20 to 25 minutes, until top is spongy to the touch and/or it passes the toothpick test.

Cool cakes in pans for a few minutes, then gently run a plastic knife around the edge. Turn cakes out onto wire racks, remove the parchment, and let them completely cool.
For frosting/filling:
In a mixer, beat together the butter and vanilla extract. Add the jarred marshmallow crème and beat until smooth. Slowly add the powdered sugar and then pour in the heavy cream. Put the mixer on high and beat for a minute or two, until the frosting is light, smooth, and fluffy.

To assemble the cake, dab some frosting on the cake plate and set the bottom cake layer on top. The frosting dabs will act like glue. Note that this cake doesn't have frosting on the sides. Place about half the marshmallow frosting on the cake layer and even it out. Place the second cake layer on top. Dollop on the rest of the frosting and swirl it to be all pretty. Add sprinkles on top. Store in fridge.

OM NOM NOM!