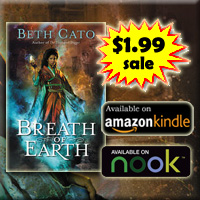 The sale on Breath of Earth continues into June! Get the ebook for $1.99 at all major online bookstores:
The deal was featured on Bookbub on the 1st, and I was stunned to see my book make it to #247 out of all Kindle books and #53 out of all Nook books. Wowsers!
Also, I'm giving away two copies of the sequel on Goodreads. Enter below!
---
#SFWAPro
Save