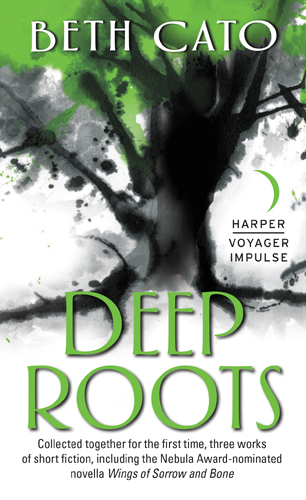 Hooray, hooray, it's publication day! Deep Roots is an omnibus of my three previously-published ebook-only works set in the world of The Clockwork Dagger. This includes two stories, Deepest Poison and Final Flight, and the Nebula-nominated novella Wings of Sorrow and Bone. Together, they are a 208-page volume that is available as a mass-market paperback for $4.99 and as an ebook for $2.99!
Amazon:  paperback or  ebook | Barnes & Noble: paperback or ebook | Kobo | Google Play | iTunes
Included are:
THE DEEPEST POISON
Octavia Leander, a young healer with incredible powers, has found her place among Miss Percival's medicians-in-training. Called to the front lines of war, the two women must uncover the source of a devastating illness that is killing thousands of soldiers.
WINGS OF SORROW AND BONE
After being rescued from the slums of Caskentia, Rivka Stout is adjusting to her new life in Tamarania. But when Rivka stumbles into a laboratory run by the powerful Balthazar Cody, she also discovers a sinister plot involving chimera gremlins and the violent Arena game Warriors.
FINAL FLIGHT
Captain Hue hoped he was rid of his troubles once Octavia Leander and Alonzo Garrett disembarked from his airship, but then the Argus is commandeered by a Clockwork Dagger and forced on a deadly mission. Hue must lead a mutiny that might bring down his own ship…. perhaps for good.
#SFWAPro