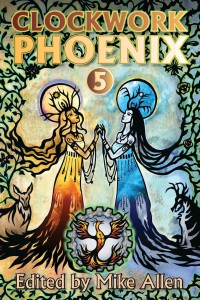 I have written many stories, but "The Souls of Horses" is my favorite. That made months of consistent "this-is-great-but" personal rejections all the more frustrating. Last year, this story finally found a home, and a fantastic one at that: Clockwork Phoenix 5, the newest in a series of acclaimed anthologies.
The book is being released tomorrow. Today, however, is the last day to enter a Goodreads giveaway to win a copy!
Clockwork Phoenix 5 is already garnering lots of positive attention. Publishers Weekly gave it a starred review, and called out my story, saying, "Perhaps the most difficult to classify is Beth Cato's "The Souls of Horses," which explores an unusual side of the U.S. Civil War. All the stories afford thought-provoking glimpses into alternative realities that linger, sparking unconventional thoughts, long after they are first encountered."
At SF Signal, A.C. Wise's column recommending women to read said, "It's clear this story is close to the author's heart, and that, along with all its other wonderful qualities, makes it an excellent starting place for [Cato's] work."
365 Short Stories also published a lovely review starting with, "Man, what a fantastic way to conclude this anthology."
Heck, I'll take that.
It sure feels good to see people respond so positively to my story after such a long, frustrating slog for an acceptance.
#SFWAPro