My friend and editor Rhonda Parrish has a new book out this week called Corvidae. I don't have a story in this anthology (though I do have one in her previous Magical Menagerie book, FAE), which meant I had the opportunity to read the book early for the purposes of providing a blurb. I was very happy to do so!
"Corvidae evokes the majesty and mischief of corvid mythologies worldwide–and beyond our world–in a collection that is fresh and thoroughly enjoyable."
– Beth Cato, author of The Clockwork Dagger
Here's more about the book: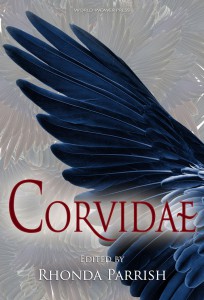 Associated with life and death, disease and luck, corvids have long captured mankind's attention, showing up in mythology as the companions or manifestations of deities, and starring in stories from Aesop to Poe and beyond.
In Corvidae birds are born of blood and pain, trickster ravens live up to their names, magpies take human form, blue jays battle evil forces, and choughs become prisoners of war. These stories will take you to the Great War, research facilities, frozen mountaintops, steam-powered worlds, remote forest homes, and deep into fairy tales. One thing is for certain, after reading this anthology, you'll never look the same way at the corvid outside your window.
Edited by Rhonda Parrish
"Introduction" by Rhonda Parrish
"A Murder of Crows" by Jane Yolen
"Whistles and Trills" by Kat Otis
"The Valravn" by Megan Fennell
"A Mischief of Seven" by Leslie Van Zwol
"Visiting Hours" by Michael S. Pack
"The Rookery of Sainte-Mère-Église" by Tim Deal
"The Cruelest Team Will Win" by Mike Allen
"What Is Owed" by C.S.E. Cooney
"Raven No More" by Adria Laycraft
"The Tell-Tale Heart of Existence" by Michael M. Rader
"Sanctuary" by Laura VanArendonk Baugh
"Knife Collection, Blood Museum, Birds (Scarecrow Remix)" by Sara Puls
"Flying the Coop" by M.L.D. Curelas
"Postcards from the Abyss" by Jane Yolen
"Bazyli Conjures a Blackbird" by Mark Rapacz
"Seven for a Secret" by Megan Engelhardt
"Flight" by Angela Slatter
Available on Amazon, Barnes & Noble, and directly from World Weaver Press (with links to more vendors, too).