This is it! The cover of the third and final volume in my Blood of Earth trilogy from Harper Voyager. Roar of Sky comes out on October 23rd and it's already available to preorder at places like Amazon, Barnes & Noble, and awesome indies like Poisoned Pen! Also… the back cover copy is now online, too! Scroll down to read.
BEHOLD!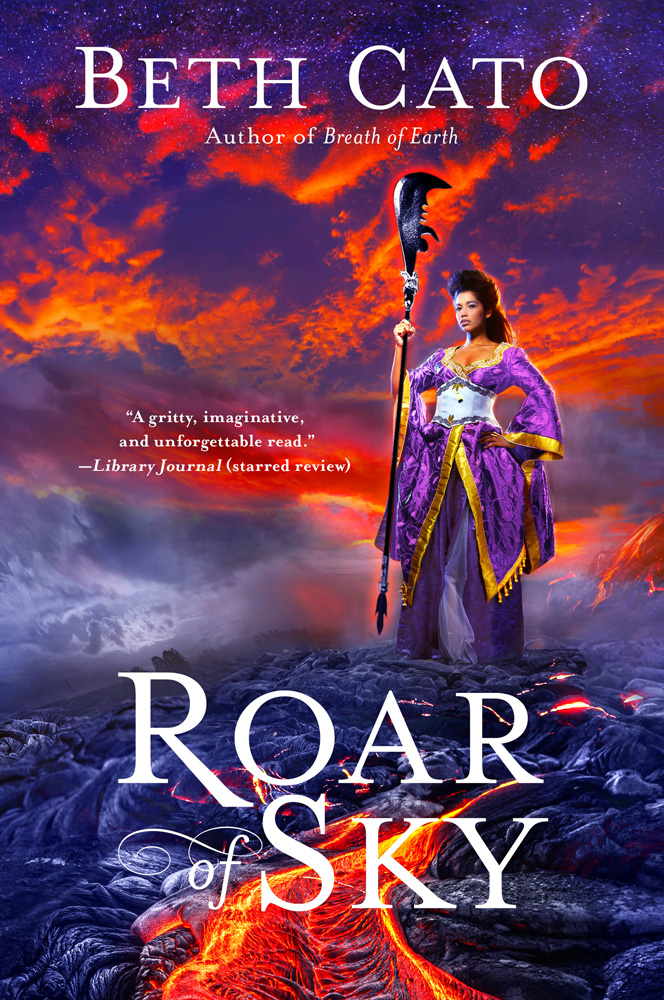 In this stunning conclusion to the acclaimed Blood of Earth trilogy—a thrilling alternate history laced with earth magic, fantastic creatures, and steampunk elements—the young geomancer Ingrid must find a way to use her extraordinary abilities to save her world from the woman hell-bent on engineering a war that would rip it to pieces.
Thanks to her geomantic magic, Ingrid has successfully eluded Ambassador Blum, the evil genius behind the plan to achieve world domination for the United Pacific. But using her powers has taken its toll: Ingrid's body has been left severely weakened, and once again she is on the run with her friends Cy and Fenris.
Hoping to learn more about her magical roots and the strength her bloodline carries, Ingrid makes her way across the Pacific to Hawaii, home to the ancient earth goddess Madame Pele. What she discovers in this paradise is not at all what she expects—but perhaps exactly what she needs to find the strength to face Blum.
But Ambassador Blum comes from the same world of old magic. She is a kitsune with near-mythic power. And if Ingrid cannot defeat her once and for all, she knows Blum will use that power to take the lives of everyone she holds dear before igniting a war that will bring the entire world to its knees.
Release date: October 23rd, 2018