Huzzah, it is 2018! The apocalypse hadn't happened (yet) and the electricity has stayed on, so let's keep on writing! I did pretty well with my 2017 goals, though it was awfully stressful through the last quarter of the year. I'm determined for 2018 to be better.
On that note, we went out on January 3rd and adopted three new cats. Only two are home right now, as one had dental surgery scheduled at the shelter, but we look forward to having the full gang soon. Luke (see picture below) and Kylo have already latched onto me and decided my office desk is the Place to Be. It feels good to have companionship as I work again. It was really hard to write with Porom gone.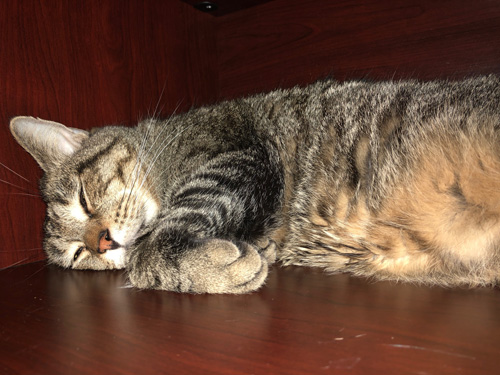 2018 Goals
1) Write a new novel.
2) Complete all three edit stages for Roar of Sky (edits, copy-edits, and first pass pages).
3) Prepare comprehensive marketing plan for release of Roar of Sky in October. This includes regular updates on my personal blog, scheduling interviews and blog posts for other blogs and sites, and seizing other viable opportunities.
a) Don't have a mental breakdown.
4) Release Roar of Sky in October.
a) Don't have a mental breakdown.
5) Write a new story (fiction or nonfiction) every month, if balanced with novel obligations.
6) Participate in the Poem a Day Challenge in April and November, and keep at least 10 poems on submission at all times.
7) Read at least 100 books during 2018 and post reviews for each.
8) Attend several conventions and book festivals throughout the year (see current list on right side of page).
9) Be honest with myself about my stress and personal limits. Don't hold it all inside. Reach out to writer friends. Let my agent know what is going on. Take time out for my husband, son, cats, and family. Read. Bake. Go thrift store shopping.
10) Don't give up. I've come a long way in the past year and there's plenty of mountain left to climb. If tired of climbing, use dynamite.