I'm happy to welcome Jennifer Lee Rossman as a guest today! Jennifer's book Jack Jetstark's Intergalactic Freakshow is out from World Weaver Press today, and it sound awesome! The title alone is enticing, but read on and grab a copy of your own today.
---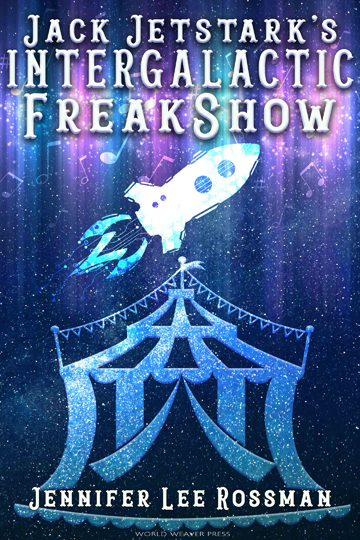 Back cover summary: Jack Jetstark travels the universe to seek out the descendants of superpowered freaks created long ago by VesCorp scientists. The vibrations encoded in a particular song transform the members of Jack's crew into a firebreather and an angel, a wildman and telepathic conjoined triplets, so they hide the truth of who they really are with the theatrics of a carnival.
The song plays every night through the receptor Jack carries with them, but when one night it has a different ending and their temporary powers become permanent, Jack believes the change is a signal from the woman who sent him on this quest in the first place. He and his freaks must navigate a universe at war to protect the love of his life.
But does the ruler of VesCorp really need protecting?
---
Excerpt:
Not a lot of money in the traveling carnival business anymore. Enough to make a living, but not like it used to be, back when fleets of enormous ships traveled the skies, bringing roller coasters and virtual reality machines to the residents of the universe. Sometimes it felt like we were the only ones out there, with our meager rides and food stalls offering unhealthy fried things on sticks; nothing special that couldn't be found at any summer funfair on any planet, moon, or decently sized asteroid.
But people wanted to see the unusual, to be scared out of their wits by the alien creatures from the far-off places they could only dream of visiting. Therein lay the appeal of the sideshow, without which our profit margins would wither to nothing and the Rubeno and I would be stuck delivering cargo again. She was built for that kind of work. Me, not so much.
I much preferred life as a space carny. If nothing else, it was a more enjoyable way to make a buck, and far less lonely. In a world that shunned and ridiculed, our little piece of space was a welcoming reprieve. It was a home, it was a family.
Merulo warmed up dinner in an old food heater, setting chipped plates on the table while he attempted the impossible task of wrangling his unruly mop of black hair. The triplets eased their pained minds by chatting among themselves and watching game shows on a screen made mostly of static. And Lily sat in front of a lighted mirror, removing the heavy mascara that made her eyes pop while undoubtedly planning our route to the next planet in her brain that never slowed down.
She noticed me watching and arched a thin eyebrow. "What?"
"It's just nice," I said. "All of this. It isn't like the world out there. It's real."
A small voice spoke from behind me. "It's fake." I turned to see the girl, the one with the bits of hay in her red braid, standing in the doorway. Shock and disillusionment cast shadows over her freckled face, the horrors of the show paling in comparison to this glimpse backstage.
"How did you get in here?" I demanded, not expecting any trouble but sure that I had locked up the carnival entrance as well as the stairwell leading to our living quarters.
"Is any of it real?"
I looked back at my crew, this time through her eyes; disturbing sights to say the least. A wildman in a robe and eyeglasses, a jovial grin on his chubby face. Conjoined triplets separated and sitting on opposite sides of the room, the sickly pallor having been wiped from their dark skin. An angel in jeans and a crocheted shawl, her beak transformed into a nose and her bare shoulders showing no sign of ever bearing wings.
Even I'd changed since the show, from the fiery barker who spouted words with ease to a broody slacker in a vest who'd couldn't turn a phrase to save his life.
Not hard to understand her surprise. The only thing worse than seeing terrible, man-eating monsters was seeing them without their disguises, seeing that; deep down, they were only human, same as anyone else. I liked to keep that particular fact a secret, as people tended to pay much more to see anatomical anomalies than they did to see ordinary people, but I didn't see a way out of this. She looked too smart to fall for anything I could pull out of thin air.
"Is it all fake?" she asked, stepping into the room.
I put my arm out to stop her. "I asked you first; how did you get in here?" I tried not to sound too upset, but the thought of someone trespassing on my ship, my secure ship where my people expected to be safe, infuriated me. If a mere girl could get on board without triggering the alarms, why not a crew of galactic pirates?
The girl retreated, her gaze flicking from one person to the next before landing on me. "I'm sorry. It's just… it's what I do." She fiddled with her hands and tugged down the sleeves of her red and black jacket.
"What does that mean?" Lily asked, coming to my side and taking over the interrogation while the others watched with caution.
"It'll be easier if I just show you." The girl closed and locked the door behind her, then knelt to peer at the electronic lock. She placed her palm over the device and the lock clicked open a moment later. She pushed open the door and turned to us, the faintest hint of a smile on her lips.
"That's impossible," Theon said as he came to inspect the lock, sounding almost insulted at the breach in security. "I installed it myself. It only opens with our keycards." He gave the girl a sideways glance, his dark, deep-set eyes narrowed. "They're electronic."
She shrugged, offering a wide grin that showed too many teeth. "So am I."
---
Buy the book in paperback or ebook!
Amazon
Barnes & Noble
World Weaver Press
---
Jennifer Lee Rossman is an autistic and physically disabled sci-fi writer and editor. Her work has been featured in several anthologies, and she co-edited Love & Bubbles, a queer anthology of underwater romance. She blogs at jenniferleerossman.blogspot.com and tweets @JenLRossman