I'm happy to welcome author Josh Vogt to my site today! He visited last year to discuss the releases of his first two books. He's back today to celebrate the release of the second book in his series called The Cleaners.
---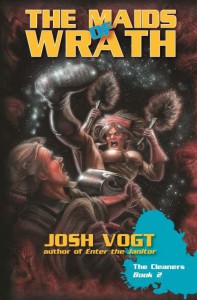 You have a "supernatural sanitation" series in progress. Can you tell us about the first book, and then about your new release?
Absolutely! The series is called The Cleaners, and it begins with Enter the Janitor. The basic concept is that the world is caught in a war between the forces of Purity and Corruption. The Cleaners form a supernatural sanitation company that fights against manifestations of Corruption, be they Scum, garbage golems, sewer monsters, or magical muck. The company's employees pose as janitors, maids, plumbers, and other sanitation workers, wielding enchanted mops and squeegees rather than your typical wands and wizard staffs.
In Enter the Janitor, readers meet Ben, a geriatric janitor with the Cleaners who is quickly approaching retirement. During a job, he has a run-in with Dani, a germaphobic, obsessive-compulsive college student who interferes with his work and accidentally unleashes the monster he was attempting to neutralize. However, her own latent magical powers manifest in self-defense, and she ends up burning down and flooding the college library, destroying the beast in the process. In the aftermath, Dani becomes Ben's apprentice, and it's up to him to teach her how to control her powers before she accidentally destroys the whole city. Mayhem ensues, as it usually does.
Book #2, The Maids of Wrath, picks up a few months later, with Dani now undergoing rigorous weapons and equipment training (think Cleaner-fu). When a maid goes berserk during a sparring match and tries to slaughter her coworkers with deadly feather dusters (yes, really), the Cleaners realize something is terribly wrong inside the company itself. They must find the source of the growing madness or their entire operation could be destroyed from within.
You're working with such a fun concept. What are some of your favorite elements to work with in this world?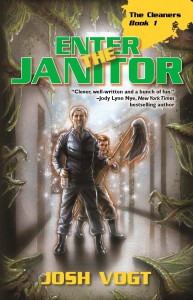 I enjoy the inherent absurdity of the premise—that of mages and wizards, witches and sorcerers basically living among us, but hiding their nature behind a corporate façade while working what amounts to "grunt jobs." It makes a weird sort of sense that this kind of company might actually get away with what they do, since janitors and maids and others of their sort are everywhere, yet we rarely pay any real attention to them. We just assume they belong.
I enjoy taking something familiar, like a spray bottle or sponge, and finding new ways to add a magical spin to it. It's fun to take concepts like recycling or the traditional image of witches flying on brooms and figure out how that translates into this reality. Oh, and yes, I probably have way too much fun with the foul-filter: a spell enacted over all Cleaners that forces them to keep a "clean image" by literally bleeping out any swear words they might try to say. Of course, certain characters refuse to accept this and are always trying to find ways to circumvent this limitation.
Your heroes and heroines fight against nasty Scum. Are there any nasty cleaning scenarios in your books that squicked you to write?
Scooping water out of a toilet bowl with my bare hands might make me hesitate, even if it was to attack a creature made of dirt. Also, one scene in Book #2 occurs in a hospital morgue—a place I'd likely never go of my own free will, just on principle. Corpses in general squick me out a bit.
Okay, let's talk about reality. What do you hate to clean?
Bathrooms are probably my least favorite, because there's so much to clean concentrated in one small room. Sinks, mirrors, shower, toilet, floor, windows…each requiring a slightly different approach to clean properly and thoroughly. I can clean the whole rest of my place in the time it takes me to get just the bathroom done.
Oddly, washing dishes can be meditative for me, and if I'm stuck on a scene, I often find myself scrubbing plates in the sink (even though I have a dishwasher) while noodling over how to proceed.
What are your current writing projects?
I'm currently working on Book #3, The Dustpan Cometh. I just wrapped up a tie-in novel called Fate's Fangs that's set in the HC SVNT DRACONES RPG universe, plus have a middle grade science fiction novel being looked at by a publisher. Expanding the world of the Cleaners should keep me busy for quite a while, as I have plenty of stories waiting to be told there. In the meantime, I'm always aiming to jump into more tie-in work and experiment with different genres and reading audiences.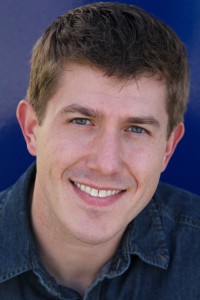 Do you have any order/preorder links for The Maids of Wrath?
You can preorder the eBook of The Maids of Wrath here, and the paperback and audiobook versions should be available on April 11th!
You can also order the print, eBook, and audiobook versions of Enter the Janitor here.
---
Author and editor Josh Vogt's work covers fantasy, science fiction, horror, humor, pulp, and more. His debut fantasy novel is Pathfinder Tales: Forge of Ashes, published alongside his urban fantasy series, The Cleaners, with Enter the Janitor and The Maids of Wrath. He's an editor at Paizo, a Scribe Award finalist, and a member of both SFWA and the International Association of Media Tie-In Writers. Find him at JRVogt.com or on Twitter @JRVogt.