I was really, really lucky to get an advanced copy of Carrie Patel's debut novel The Buried Life. I liked it so much that I blurbed it:
"The Buried Life artfully sets a who-dunit murder mystery in a dystopian underground city filled with dark politics and foul secrets. It's a gripping read from start to finish, with two clever female leads and a delightfully colorful cast. More, please!"
– Beth Cato, author of The Clockwork Dagger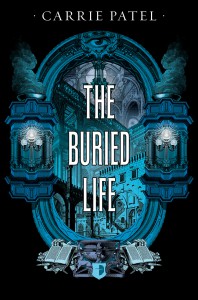 Want to know even more about it? Okay!
The gaslight and shadows of the underground city of Recoletta hide secrets and lies. When Inspector Liesl Malone investigates the murder of a renowned historian, she finds herself stonewalled by the all-powerful Directorate of Preservation – Recoletta's top-secret historical research facility.
When a second high-profile murder threatens the very fabric of city society, Malone and her rookie partner Rafe Sundar must tread carefully, lest they fall victim to not only the criminals they seek, but the government which purports to protect them. Knowledge is power, and power must be preserved at all costs…
The Buried Life is out today, so be sure to check it out! And go congratulate Carrie on her book's release, too. There's nothing like release day. It's proof that dreams come true.