I was at San Diego Comic-Con all of one day and I am still recovering three days later. It's that intense. That crazy.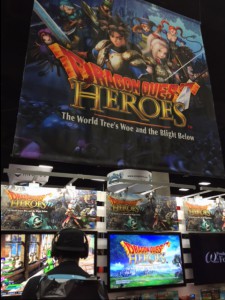 I arrived at the convention center about 2pm on Thursday. I had a signing at the Harper Collins booth at 4pm, and I knew the intervening hours would be my best chance to wander the convention floor. So I did just that. I quickly found that the blockbuster media area was way too loud and crowded for my taste. I had to make a brief stop at the Square Enix booth, though. I was happy to see that Dragon Quest Heroes had a major presence and playable games, though I was indignant that the attached Square Enix store sold no Dragon Quest slimes. This didn't surprise me. Sadly, it's a snub that has dragged on for years. Slimes need love, dangit.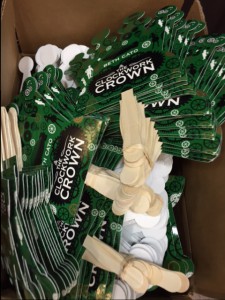 My signing at the booth was exciting. They pulled out a whole box of Clockwork Dagger books and handed them out to people. Of course, a lot of folks were there because, "Hey, free book!" but a few people had the book on their wishlist already and had made a point of showing up. THIS GAVE ME ALL THE HAPPY FEELINGS. Plus, Harper Collins shocked me by presenting Clockwork Crown fans! Holy moley, I had con swag!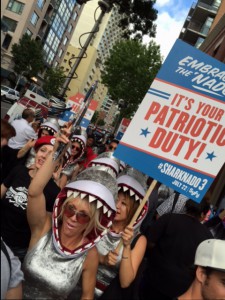 That evening I went with friends into the Gaslamp District as we prowled for sustenance. I witnessed one of the crazy promotional events that Comic-Con is known for: a Sharknado parade.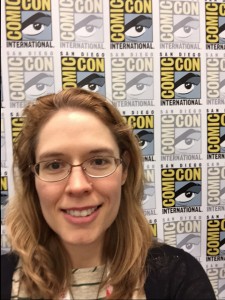 Friday was my really cram-packed day. I dashed from a Harper Collins breakfast to my Romantic Adventure panel to the group signing afterward. The panel was great–good food for thought on world-building and romance and the nature of villains.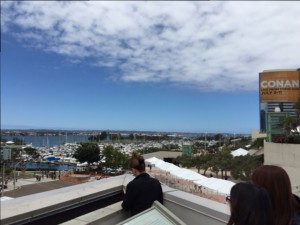 I sure loved the weather in San Diego. The convention center is right on the water, and the views are amazing! It was overcast at times, but the afternoons stayed sunny with the high in the 70s. Considering that the LOW is Arizona right now is the mid-80s… yeah. I enjoyed the coastal coolness.
Once the signing was done, I lingered a while longer to do an interview, and then it was time to head back to the airport! I had bought a Handbag of Holding from Think Geek for this trip because I knew I'd be at the con most of the time. It was really hard to pare down to the essentials, but the minimal space also made me picky about what I bought. Right before I left, I was offered two ARCs I couldn't say no to, and at that point my purse was at about exploding point.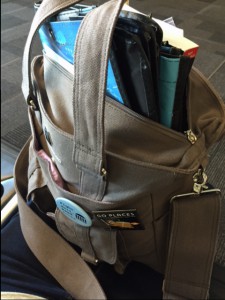 The whole experience was a blast. I'm sad that I left after just a day, but kind of relieved, too. It would have been nice to attend some panels other than my own. It would have been nifty to have some celebrity sightings, too.
There's always next time, right?