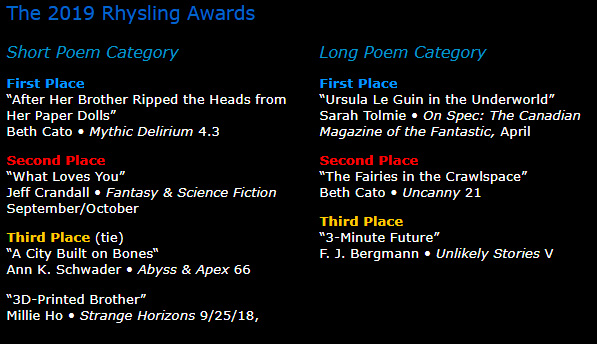 The Rhysling Award is the top award within science fiction, fantasy, and speculative poetry, as voted on by members of the Science Fiction and Fantasy Poetry Association (SFPA). I've had poetry make finalist for like four years now–but this is no short list. The nominees fill an entire small book, and these poems are GOOD. Like, make you cry or gasp in reaction kind-of-good. I've always been happy to have my poems hang with that crowd.
This year, something bonkers happened. I WON. My poem "After Her Brother Ripped the Heads from Her Paper Dolls," published in Mythic Delirium, won 1st place in the short poetry division. Even more bonkers, I also placed 2nd in the long form category with "The Fairies in the Crawlspace," published in Uncanny Magazine.
Thanks to everyone who voted for my poems. I remain gobsmacked by this honor.
#SFWAPro