I'm happy to welcome my Harper Voyager sibling Nancy K. Wallace to my site today. The second book in her Wolves of Llisé series came out last week, and she's here to talk about the myth behind her novels–and as a librarian, recommend some of her favorite reads!
---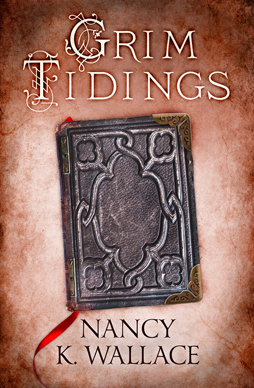 Book two in the sumptuous Wolves of Llisé trilogy: As the son of Llisé's ruler, Devin Roché knows its laws only too well. It's a land where keeping historical records is forbidden. To do so would mean imprisonment – or death.
Only bards may share the histories of their provinces, but Devin's quest to learn from them ended in tragedy. His best friend Gaspard has been kidnapped, Master Bards are being murdered and whole communities are disappearing. Clearly someone doesn't want Devin to know the true history of Llisé.
With his guard Marcus and a wolf pack for protection, Devin sets out to discover the truth. But as terrible secrets come to light, Devin realizes that some knowledge can be deadly.
---
– Grim Tidings is the second book in your Wolves of Llisé series. What is the French legend that inspired you, and how does this work into your books?
The legend is the story of the Beast of Gévaudan, and I'll add a little background to it. Apparently toward the end of the 18th century, France had a terrible problem with wolves in its rural provinces. The Beast of Gévaudan was an unusually large wolf that terrorized the countryside near the Margeride Mountains. It was shot and killed by Jean Chastel, who becomes a nobleman in my book. As far as the legend goes, there were rumors that Chastel actually trained wolves to obey him. This bit of information sent me off on a tangent and Among Wolves was born.
– Have you traveled to France–and if not, how have you done so vicariously?
I have not traveled to France although I would love to someday. I have a lot of books on France and a Pinterest collection labeled Llisé that gives me ideas for the villages and countryside. Thankfully, these books are fantasies not travel books and I do have some leeway.
– I would love to know more about the important role that bards play in your series.
I was first fascinated by bards after reading Patricia McKillip's Riddlemaster Trilogy. I love the idea that stories are something you can conveniently carry with you. You don't need props or scripts, they are just there in your mind. I've often thought that if some cataclysmic event occurred on earth, that I would be able to reinvent the phone or electricity but I could tell stories.
In my trilogy, literacy is not only discouraged but punished. Storytelling provides a way of recording the important events in the lives of the provincial people. The meticulous way that the bards retell the tales ensures that accuracy is preserved. It is when Devin discovers that the official government archives disagree with the provincial chronicles, that trouble begins.
– You're a librarian. What are some of your favorite books to recommend to children or adults?
Oh dear, you shouldn't have asked! I have to admit that I adore picture books! One of my favorites is: I Ain't Gonna Paint No More by Karen Beaumont. I sing it at story time and use a huge paint brush to demonstrate. Another great one is Bear Has a Story to Tell by Philip C. Stead. Bear is so excited to pass his story on to his friends but they constantly interrupt him with requests for help to get ready for winter. Bear finally falls asleep, his tale untold, and wakens to discover he has forgotten it! I just bought a wonderful book for the library called Choose Your Days by Paula Wallace. It's this sweet story about life and its brevity proving that picture books are not just for kids! I look for gentle books for children. Their lives are so frantic and I think they need warm, comforting books that they can disappear into.
I rarely read adult books but two I love are A Brief History of Montmoray by Michelle Cooper and The House at Tyenford by Natasha Solomons. Both stay with you long after the book is closed. I tend to cherish books that touch me emotionally and both of these did.

– What are you working on next?
I have a YA novel that is finished and an adult novel that is almost done. The adult one takes place in Renaissance, Italy. I also have two great ideas for middle grade novels but I have to finish my third book in the Wolves of Llisé series first. I will admit some reluctance to having it be finished! After having lived with these characters for a few years, I don't want to say goodbye!
***
---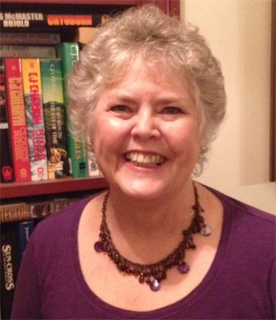 Nancy K. Wallace loves chocolate, Christmas, and puppets! She collects fairytales and folklore and houses them in dozens of bookcases (alphabetically according to country). Her pets include four lovely cats, and an Arab mare named Ariel. She lives with her husband in a 140 year old farmhouse named Chevonwyck. Fortunately, she has a family who is tolerant of her obsessions and excellent at proofreading! Nancy is the author of 19 children's books plus The Wolves of Llisé series for new adults. She has reviewed YA literature for VOYA magazine for 20 years.