Shadow of the Void is out today! This second book of the Sundered World Trilogy promises to be awesome. Author Nathan Garrison is one of my peers in Harper Voyager Impulse, and I interviewed him about the new release.
---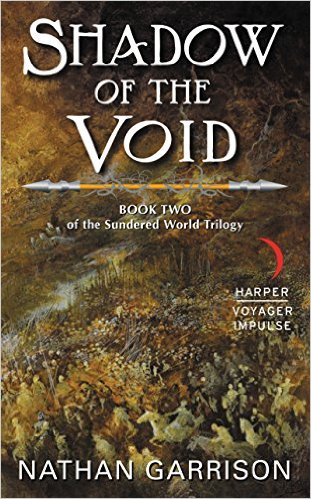 – Who are some of your favorite epic fantasy authors?
Along with classic authors such as J.R.R. Tolkien and Robert Jordan, my favorite ones still writing today are Steven Erikson and R. Scott Bakker. It's hard to top the scope and complexity of their worlds, yet they still manage to get deep down into their characters, and the personal struggles they all go through amidst events that shake the world. I also recently discovered Janny Wurts, and based off what I've read so far, those top two are going to have some competition for their spots!
– Do you have a favorite character in your cast? Why this person?
Vashodia is hands down my favorite character to write. I have to limit scenes from her point of view, however, because she simply knows too much–probably more than me even. She's so fun because not only does she have unspeakable power, but she also takes such delight in proving others wrong.
– You get to choose your own magical power. What will it be?
Flying is close, but if I was able to choose anything, I could never pass up time manipulation. Though, I'd probably just use it to catch up on sleep and read more books.
– Epic fantasies are notoriously complex. How do you keep the details straight as you write in your Sundered Worlds trilogy?
Very. Meticulous. Outlines. That, plus my wife, editor, and copyeditor keep me honest, and my manuscripts coherent. You don't want to know what my books look like before a thorough scrubbing from them.
– Your new release is the second book and you're working on the third right now. Can you share the title and a projected release date?
The Light That Binds is the final book in my Sundered World trilogy, and has a projected release date of February 15th 2017. One day past Valentines Day! Which is appropriate, since it deals (far more potently than the first two books) with the theme of love.
---
With comparisons to N.K. Jemison, Michael J. Sullivan, and Joe Abercrombie, readers have fallen in love with The Veiled Empire, the first book in The Sundered Worlds trilogy. Now, Nathan Garrison takes the story to the next level Shadow of the Void.
The Veil has fallen . . . and the gods have been woken.
For many, a new dawn has risen, as freedom from the tyrannical Emperor Rekaj has created a land replete with opportunities. But for those who had lived outside the Veil for generations, the sudden appearance of a new nation is not cause for celebration–it is the cause for war.
Yet, even as the political machinations of men and mierothi and valynkar start to manifest on a global scale, there are a few playing their own games. Whether it's the powerful combination of Vashodia and Jasside trying to carve out a country for those freed from the Veil, or the warrior Mevon and assassin Draevenus forming an unlikely alliance in search of the dark god Ruul, the world is in chaos…which might be exactly what some are counting on.
Continuing where Veiled Empire left off, Shadow of the Void shows us how individuals can shape their own destinies, but not necessarily control them.
Buy the 1st book, Veiled Empire!
Amazon | Barnes & Noble | Kobo
Buy the brand new 2nd book in the trilogy!
Amazon | Barnes & Noble | Kobo
---
Born in 1983, Nathan Garrison has been writing stories since his dad bought their first family computer. He grew up on tales of the fantastic. From Narnia and Middle-earth to a galaxy far, far away, he has always harbored a love for things only imagination can conjure up. He counts it among the greatest joys of his life to be able to share the stories within him. He has two great boys and an awesome wife who is way more supportive of his writing efforts than he thinks he deserves. Besides writing, he loves playing guitar (the louder the better), cooking (the more bacon-y the better), playing board/video/card games with friends and family, and reveling in unadulterated geekery.
Website | @NR_Garrison | Facebook | Goodreads