I'm happy to welcome back my good friend Sara Dobie Bauer! We've been IRL friends for years, though she's now moved to Ohio, we keep in touch–and we love each other's books! Case in point: her new release Bite Somebody Else from World Weaver Press. In this sequel, she delves into the POV of raunchy, '80s-loving vampire Imogene. The book came out this week–and be sure to check out the first book, Bite Somebody.
---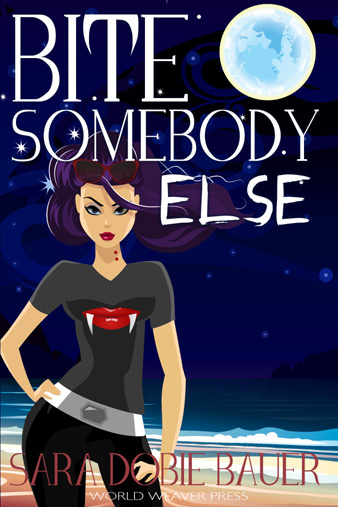 You're an ex sexpert for SheKnows and your characters sure enjoy rambunctious love lives. Your love scenes read so easily—do you find them easy to write? What types of scenes DO you have a hard time writing?
Based on reader reaction (and my penchant for landing in erotica anthologies), I'm apparently good at writing sex. Honestly, though, sex scenes take time. A two-page sex scene can take me an hour to write as most of that time is spent staring at the screen and choreographing in my head. I also tend to mix dialogue within the sexual choreography, so not only do I stare at the screen, but I also talk to myself. This is why I don't write in public. Plus, since I'm choreographing sex scenes in my head, I can only imagine the ridiculous faces I might make. That's the long story.
The short story: sex scenes are my specialty. I enjoy writing them. I'm good at writing them. But they are "a process."
Action scenes are hard to write. Talk about choreography! There are several fight scenes in Bite Somebody Else, and you almost literally need to work these out with a partner. (Bahaha, I guess a partner helps in writing sex scenes, too … there might be a short story there …). ANYWAY. Fight scenes are difficult. Oh, so are dance scenes, of which there are a couple in Bite Somebody Else because, duh, Imogene.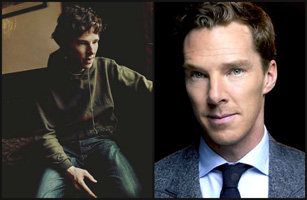 Your muse is Benedict Cumberbatch. What would happen if you saw him in person? Would security personnel be involved?
My husband is legitimately worried that, if I ever met Benedict Cumberbatch, I would become a black hole and destroy the universe. Honestly, though, if I ever met the British stud in person, I imagine it would be a lot like the time I met Neil Gaiman. I smiled, panted a little, and he took pity on me and gave me a hug. I like to think I'd be all cool and collected and sexy (like Imogene), but I'd be more like Celia, drooling and stuttering and saying a bunch of really dumb shit.
It's funny, but both male leads in the Bite Somebody Series are based on different incarnations of Mr. Cumberbatch (because, as you said, he is my muse). Ian in Bite Somebody is laid back, behind-the-scenes Benedict. Nicholas in Bite Somebody Else is suave, red carpet Benedict. No wonder the two characters get along so well …
Imogene loves her rum punch. Do you love it, too?
I do love rum punches. The first time I had a rum punch was in Belize on Ambergris Caye during my honeymoon. I don't know if it was the drink or the location or my husband—but I was euphoric. I'm pretty sure I almost drank the island dry that week, but I did figure out the recipe! Simple. Fill a tall glass with ice. Pour a double shot of Captain Morgan's on top. Fill three-quarters of the way with strawberry-banana juice and one quarter peach juice. Stir and slurp, preferably on a beach or while reading your shiny new copy of Bite Somebody Else.
Bite Somebody was told from the viewpoint of Celia, who is more of a frumpy every-girl. In the sequel, you get deep into Imogene's POV. She is more like a force of nature, profane, crude, and utterly honest. Was it easier to get into one character than the other?
Not really. As women, I think we encompass both characters depending on the situation. At times, we can all be nervous and frumpy. Other times, we can be fierce. Celia and Imogene represent two extremes, but the rest of us float somewhere in the middle. That said, in my daily life, I'm a bit more profane and honest, like Imogene. My sense of humor is the Bite Somebody Series to a T, so it was easy to write both books—probably because I was just having so much fun!
What's next for you?
Sleep until Halloween? No, better not. Ummm, I have short stories in a couple upcoming anthologies. My story that has caused the most arguments about how we define "sexuality" will be in Stoneslide Corrective this fall. (Keep an eye out; see if it pisses you off.)
Next year, I'm part of a three book series with Pen and Kink Publishing called Enchanted. A bit about that …
In modern day Charleston, lonely white witch Cyan Burroughs has waited her whole life to lead the battle against dark witches and eventually meets the man she is fated to love. A tragic trolley accident brings Liam Cody into her life. He is her destiny, but he's also in love with someone else. Now, Cyan and her magic family must find the dark witch who caused the accident while Cyan fights her feelings for Liam—a charming Irishman with secrets of his own.
With the release of Bite Somebody Else comes a certain amount of freedom. As you can attest, finishing a series is sad because you have to say goodbye to a bunch of people you've spent years hanging out with. However, finishing a series is also a relief, as you are free to think about other projects with a clear head. I have two finished manuscripts to rewrite (both a bit darker than the Bite Somebody Series), so come July, it's time to dive in. Wish me luck, and remember … only bite the people you love.
---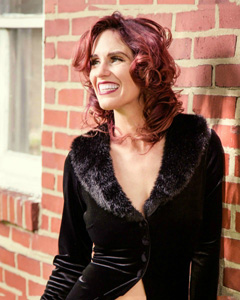 Sara Dobie Bauer is a writer, model, and mental health advocate with a creative writing degree from Ohio University. Her short story, "Don't Ball the Boss," was nominated for the Pushcart Prize, inspired by her shameless crush on Benedict Cumberbatch. She lives with her hottie husband and two precious pups in Northeast Ohio, although she'd really like to live in a Tim Burton film. She is a member of RWA and author of the paranormal rom-com Bite Somebody, among other ridiculously entertaining things.