I'm excited to welcome my dear friend Sara Dobie Bauer as we celebrate the release of Bite Somebody from World Weaver Press! This book is fun and flirty, the very essence of a summer beach read.
Oh hey, I even blurbed the book! I said: "Witty banter and hot sexy-times make BITE SOMEBODY sparkle in all the right ways."
Seriously, read this interview and go order this book.
---
Celia is so frumpy and utterly relatable. And Ian… yeah. You often use celebrities as an inspiration for your male leads. Was that true here?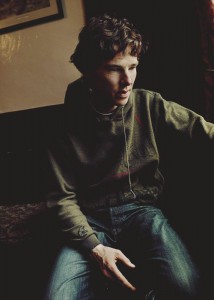 In regards to Ian, yes … and no. There's this one photo shoot of Benedict Cumberbatch that sort of nailed Ian's "look." I mean perfectly. However, Ian's personality is a mix between the goofy Benedict I've seen in interviews, my husband's general laidback-ness, and the sweet Boy Next Door stereotype. Ian is his own man, truly. He may have been inspired by outside sources, but he came to life when I wrote him. He's so ingrained as a real person in my head, we sometimes play Jeopardy! together. Which isn't weird, okay? It's just a writer thing. Don't judge me!
The romantic chemistry zings in this book. Is that sort of banter easy for you to write, or more slow and deliberate?
When I was single, banter was my Mona Lisa. Banter was my David. Banter was my 1978 Pittsburgh Steelers. Now that I'm married, I still banter with my Jake, but there's a surplus of romantic one-liners in my head, which seems to come out on the page. I utilize dialogue to build chemistry, which might be a crutch, but it's worked so far. If two people can talk to each other (through one-liners, innuendo, and even thoughtful confessions), romance naturally grows from spark to flame. I can't do anything slowly or deliberately … except maybe mix cocktails. That's an art form, damn it.
One of the things I appreciated about Bite Somebody was how you stayed pretty true to traditional vampire lore (no sparkles) while making it modern and fresh. What are some of your favorite vampire books?
This is weird, but I love dark and twisted vampire books, even though the only thing truly twisted about Bite Somebody is Imogene's hair. My most recent favorite is The Lesser Dead by Christopher Buehlman. (The man can do no wrong.) Funny, I grew up reading Anne Rice's Vampire Chronicles. I tried reading one recently and didn't like it. Go figure.
Let's talk setting. This is based on a location in Florida you know quite well, right?
You bet! Longboat Key! I renamed it Admiral Key for Bite Somebody, because I didn't want to have to get everything exactly right, like street names and stuff. (Lazy writer.) I head down to Longboat Key every year for a pilgrimage with my Aunt Susie, where we drink rum punches and hang at The Drift Inn, just like the vamps in my book. It's a place of peace, quiet, and immature hilarity.
How do you plan to celebrate on release day?
I'll have a rum punch, put on my highest heels, and dance to 80s rock. While wearing vampire teeth.
---
---
Order Bite Somebody on Amazon or World Weaver Press
---
---
Sara Dobie Bauer is a writer, model, and mental health advocate with a creative writing degree from Ohio University. She spends most days at home in her pajamas as a book nerd and sex-pert for SheKnows.com. Her short story, "Don't Ball the Boss," was nominated for the 2015 Pushcart Prize, inspired by her shameless crush on Benedict Cumberbatch. She lives with her hottie husband and two precious pups in Northeast Ohio, although she would really like to live in a Tim Burton film.
Save