It's end of the month catch-up-time here. I spent the weekend revising a big batch of poems I wrote during November Poem-A-Day–yes, I'm that behind on things. The next order of business will involve sending out poems (poetry editors: brace yourselves). I have a month until Phoenix Comicon (my panel schedule is online!) followed by the release of Clockwork Crown, so life will soon escalate in craziness.
And hey, there's a lot of other cool stuff to share, too.
– Have you ever wondered what a literary publicist actually does? One of my fellow Harper Voyager authors interviewed our publicist!
– Author Teresa Frohock invited me to her blog, where I discuss medicine and magic in "The Deepest Poison" and The Clockwork Dagger series. If you want to read about World War I medicine, I list the books I used as sources!
– Editor Rhonda Parrish revealed the cover for B is for Broken. I have a flash story in here for the letter K. There's also a Goodreads giveaway to win a copy of the book.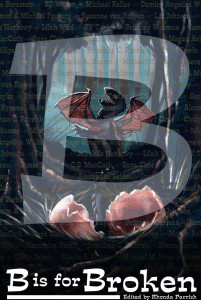 I have two new, very different interviews up:
– AFE Smith asks me about the books and goodies I'd bring to a desert island.
– Rhonda Parrish questions me about my story in the FAE anthology over at World Weaver Press.
Tomorrow is the release day for "The Deepest Poison!" Whee!