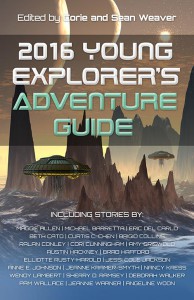 I unabashedly love middle grade books, and I love that my beloved story "Red Dust and Dancing Horses" is going to be in the 2016 Young Explorer's Adventure Guide. This is an anthology of science fiction stories for readers 8 and up, and it's all about strength and diversity. Nancy Kress says it very well on the promotional video:
The Kickstarter campaign has just started. It's very affordable to get DRM-free copies of the 2015 book and the new 2016 one, and the print books are included starting at $20. Do you have a middle grade reader in your house? Know one? Want to help out a library? Please check out the campaign and consider a contribution!
The fundraiser ends on September 26th. I'll be sure to post on the progress!