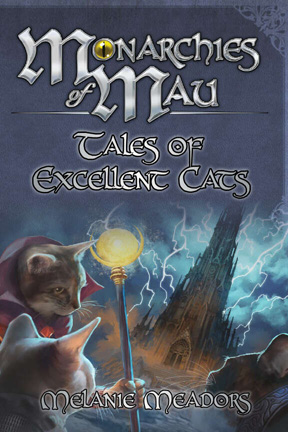 Role-playing games have played a major part in my life and in my writing. Therefore, I'm quite tickled to have a story within in an RPG setting–one featuring magic and cats! Tales of Excellent Cats is set in the world of Monarchies of Mau. This anthology features a very me kind of story about a cleric who tends to others even as she struggles with an incurable disease. There's murder, sword-fighting, and of course, a requisite tavern scene.
The full table of contents for the book is amazing, with 14 stories edited by Melanie Meadors: Karen Bovenmyer, Joseph D. Carriker Jr., ZZ Claybourne, Elaine Cunningham, Erin M. Evans, Steven S. Long, Lee Murray, Errick A. Nunnally, Aaron Rosenberg, Lucy A. Snyder, Monica Valentinelli, Sabrina Vourvoulias, and LaShawn M. Wanak.
You can buy Tales of Excellent Cats in ebook at Amazon, and in PDF or print through DriveThruFiction.
#SFWAPro