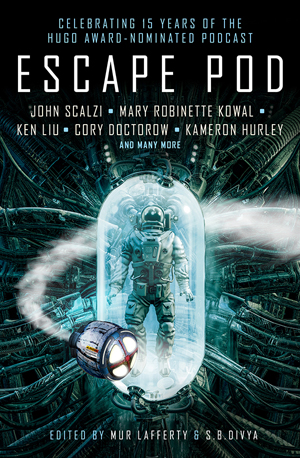 Today's the release date for Escape Pod: The Science Fiction Anthology, a book that celebrates Escape Pod's 15th anniversary with a range of diverse science fiction stories. I'm somehow mixed in there with a who's-who of authors. Here's the official description; buy the book wherever books are sold, in print and in ebook!

The fifteenth anniversary of the Hugo-nominated science fiction podcast Escape Pod, featuring new and exclusive stories from today's bestselling writers.

Finalist for the 2020 Hugo Award for Best Semiprozine.

Celebrate the fifteenth anniversary of cutting-edge science fiction from the hit podcast, Escape Pod. Escape Pod has been bringing the finest short fiction to millions of ears all over the world, at the forefront of a new fiction revolution.

This anthology gathers together fifteen stories, including new and exclusive work from writers such as from Cory Doctorow, Ken Liu, Mary Robinette Kowal, T. Kingfisher and more. From editors Mur Laffterty and S.B. Divya comes the science fiction collection of the year, bringing together bestselling authors in celebration of the publishing phenomenon that is, Escape Pod.
Available at Amazon [affiliate link] | Bookshop.org [support indies] | Barnes & Noble
#SFWAPro