(If you're looking for my Bready or Not post, I shifted it to Tuesday night so I could share it on social media before my trip! You can find my Matcha Cheesecake Bars recipe here.)
As this posts, I should be on the way to Gen Con. *knock on wood*
I have events throughout the day on Thursday, Friday, and Saturday. If you're there, I hope you can take a brief break from gaming and drop into a panel or two! I will have cookies, though I don't know how long they'll last. If you partake in a cookie, you can also get one of my brand new ribbons to add to your badge.
The book vendor should have copies of my Clockwork Dagger duology as well as Breath of Earth and Call of Fire; follow me on Facebook and Twitter for updates on the stock on hand.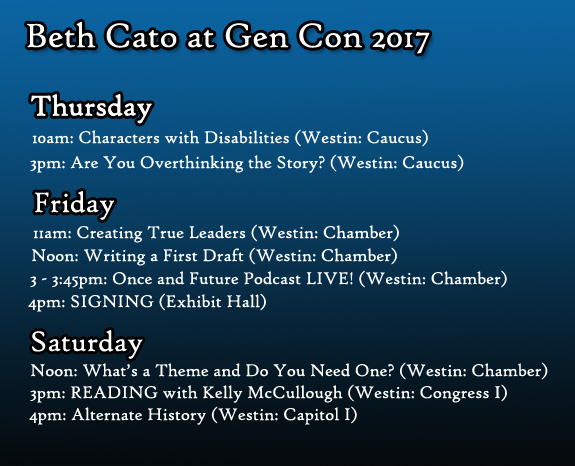 Thursday
10:00am – 11:00am: Writer's Craft: Characters with Disabilities Westin/Caucus
Explore ways to include characters with disabilities in your stories in a respectful and realistic way. With Gail Z. Martin, Beth Cato, Mary Robinette Kowal
3:00pm – 4:00pm: Writer's Craft: Are You Overthinking the Story? Westin/Caucus
Climb out of the rabbit hole of self-doubt and get back to writing! Learn to identify when you're overthinking the story. Featuring Beth Cato, Kelly McCullough, Richard Lee Byers, Toiya Finley
Friday
11:00 – 12:00pm: Writer's Craft: Creating True Leaders Westin/Chamber
Learn to craft inspirational characters that embody the traits of a great leader! Featuring Stephen P. Kelner, Jr., Beth Cato, Richard Lee Byers, Geoffrey Girard
12:00pm – 1:00pm: Writer's Craft: Writing a First Draft Westin/Chamber
Most writers begin with a draft. Learn how to get that first draft down, what a draft looks like, and what to do with it. Features Beth Cato, Christopher Husberg, Kelly McCullough, Toiya Finley
3:00pm – 3:45pm: The Once and Future Podcast LIVE! Westin/Chamber
Join host Anton Strout with Mercedes Lackey and Beth Cato for a live recording of this weekly geeky podcast for readers and writers that focuses on all things fantasy and SF. (Note that I need to dash out a few minutes early to make sure I make my signing at 4pm.)
4:00pm – 5:00pm: Signing (Exhibit Hall)
Saturday
12:00 – 1:00pm: Writing 101: Themes—What's a Theme and Do You Need One? Westin/Chamber
Educators and experts always go on and on about the theme of a story, but what is it and should you worry about it? Featuring Beth Cato, Bradley P. Beaulieu, Howard Andrew Jones, Karen Bovenmyer
3:00pm – 4:00pm: Reading: Kelly McCullough & Beth Cato Westin/Congress I
Writer's Symposium authors read from their latest works in an intimate small-room setting. Join us for this unique opportunity to experience the authors' personal interpretations of their own works.
4:00pm – 5:00pm: Writer's Craft: Alternate History Westin/Capitol I
Want to write a story where Rome never fell? Or where a time traveler saves Kennedy? Learn tips for writing awesome alternate history stories! Featuring Charlaine Harris, Eric Flint, Beth Cato
#SFWAPro
Save