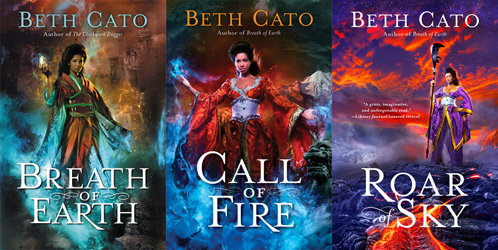 Here's the promo round-up for Roar of Sky as of October 30th; there will be more posts to come!
Guest posts:
Scalzi's Big Idea: Roar of Sky
My Favorite Bit from Roar of Sky
The Fantastical Food of Fantasy: Magic Made Real at Tor.com
An Excerpt from Roar of Sky at Liana Brooks's site
Tweet thread: Beth Cato on research on Hawaii's Big Island
Fantastic History: Geomancy from the Ground Up
The Page 69 Test: Roar of Sky
Interviews:
Beth Cato talks about Roar of Sky with My Life My Books My Escape
Poison Pen Bookstore Roar of Sky Release: Facebook Live with Sam Sykes
Roar of Sky is now out and available everywhere. If it's not in your local store, don't walk away! Simply ask them to order it. You can request your library buy it as well (libraries are awesome like that). Of course, it can be found at all the usual suspects on the internet, too.
#SFWAPro