There's so much going on, let's bust out the bullet points.
– I kinda took over page 99 of the September issue of RT Book Reviews Magazine. Not only did they review The Clockwork Dagger and give it four stars (YAY!), but they interviewed me and gave me a chance to talk about recipes. As I am wont to do.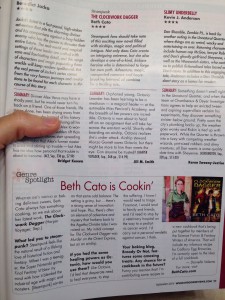 – I was interviewed by Marina Lostetter AND shared my recipe for bacon toffee (aka Bacon Crack).
– I have a story in an anthology that comes out next week called A is for Apocalypse, and a reviewer had very nice things to say about my story specifically.
It's impossible for me to pick a favourite in this collection, but I recommend beginning with Ms. Cato's entry to anyone who likes skipping around.
– Folks are saying nice things about The Clockwork Dagger, too! Like here, with 5/5 stars! Also, I was delighted (to put it mildly) when two authors I greatly respect (but don't know as friends, at all) gave the book a shout out, too–here and here.
Cool things are happening!