When my editor told me that she'd like to see Octavia and the Lady on the cover of The Clockwork Crown, I thought it was a wonderful idea. I do miss seeing Alonzo again–and I described such a wonderful outfit for him in the book, too–but the series is really Octavia's story. That's especially true in Crown. This is where Octavia grows up. She has to confront everything that terrifies her.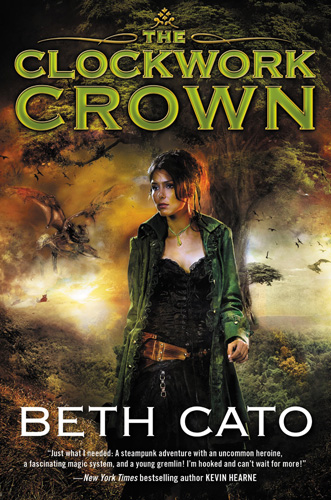 I exchanged a number of emails with artist Gene Mollica. There is a lot of give and take in this kind of thing. My biggest request was that Octavia wear the green coat again. I mean, I loved the coat on the Clockwork Dagger cover so much that I commissioned one of my own.
Then I needed to describe the Lady. I sent along some descriptions from the books but also some reference images. The whole concept of the Lady and her religion is inspired by the Super Nintendo game Secret of Mana. That was the first place I encountered the world tree mythology when I was a teenager. Nintendo Power published an issue with the Secret of Mana cover art as the centerfold, and I had that Hiro Isono artwork pinned on my bedroom wall for years.
The Lady is a tree whose branches scrape the clouds and whose roots moor the world. A canopy of normal-sized trees is around her roots, like grass is around a typical tree. Her bark is mottled with algae and growths and cascading waterfalls, and creatures of all kinds reside in her shadow. Hiro Isono's illustrations provided the foundation for my imagination.
Therefore, when I saw the cover for Clockwork Crown, I was blown away. Octavia looks great, but the Lady…! It brought tears to my eyes. I mean, look between these illustrations and Gene Mollica's end result. He created a real-life version of the Lady, inspired by the Mana Tree that I stared at for so many years there on my bedroom wall.