I am genuinely proud to be part of this incredible new anthology in which 95% of profits are being donated directly to charities that are providing testing to communities in need–and you get to choose the charity.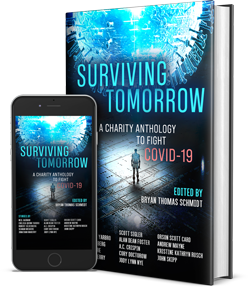 Surviving Tomorrow is a collection of 29 stories about survivors by writers like Neil Gaiman. Chelsea Quinn Yarbro, Cory Doctorow, Robert Silverberg, Jonathan Maberry, Seanan McGuire, Andrew Mayne, Scott Sigler, Orson Scott Card, Alan Dean Foster, A.C. Crispin… and me! The book is available to preorder now to ship in the coming months. There is a special edition, a hardcover, a trade paperback, and an ebook.
Preorder Surviving Tomorrow.
Find out more about the charities here.
#SFWAPro