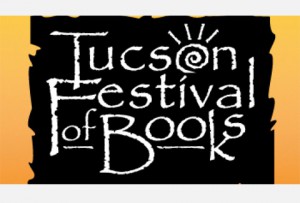 On the Ides of March, you will find me in Tuscon at the Festival of Books. This is an event I have wanted to attend for ages, and now I'll be there as an author. Huzzah! There were about 130,000 people in attendance at the festival last year, and approximately a gazillion authors. I'm honored to be included.
I have one panel and will sign books afterward.
I Spy a Dead Guy: Spies and Detectives in Paranormal Worlds
Solving mysteries and stealing secrets (or just stealing) adds an extra layer of danger and complication in a paranormal world. Hear about how these authors deal with those problems, or just learn more about the fascinating worlds they've created.

Integrated Learning Center Room 150 (Seats 155, Wheelchair accessible)
Sun, Mar 15, 1:00 pm – 2:00 pm
SciFi/Fantasy/Horror
Signing area: Sales & Signing Area – Integrated Learning Center (following presentation)

Panelists: Beth Cato, Brian Keene, Scott Lynch, Jeffrey Mariotte
Moderator: John Muñoz
Please drop by and say hi! The Clockwork Dagger will be on sale there if you don't have your own paperback copy handy, or I'll sign most anything else (napkins, Death Star plans stolen by Bothans, other people's books, etc).