I originally posted this on Facebook, and it had such a good reaction that I decided to post it on my blog as well, as I know some family members subscribe to my blog feed. The TL;DR version: Wings of Sorrow and Bone is a Nebula nominee in the novella category. This is a HUGE deal.
A full list of this year's nominees can be found here.

I was asked what a Nebula nomination really *is*. It's comparable to an Oscar nomination, I suppose.
Within science fiction and fantasy fiction, the Nebulas (voted on by members of SFWA, a professional writers' organization) and the Hugos (voted on by supporters and attendees of the annual WorldCon) are THE biggest awards, followed by others like the Locus Award, World Fantasy Award, etc.
Being a Nebula nominee is a huge deal. It's the kind of thing that gets mentioned on book covers and in reviews (it can also lead to book deals and reviews). It's high validation from my peers. Go look at Wikipedia at the works that have won these awards–I bet you'll recognize names and titles!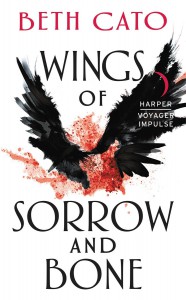 #SFWAPro