This original recipe combines salted caramel chips (my new favorite ingredient) with my beloved macadamia nuts to make something innovative and amazing.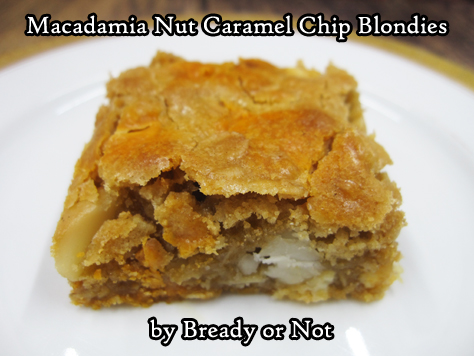 These Macadamia Nut Caramel Chip Blondies are soft, chewy, and nigh divine. Plus, if you're in a hurry, they are fast to make and bake.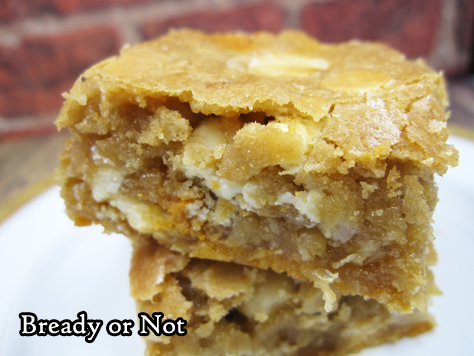 That's exactly what I needed when I created this recipe. I had another recipe result in total disaster (it happens to us all!) and I needed another platter of baked goods, fast, for my husband to take to work…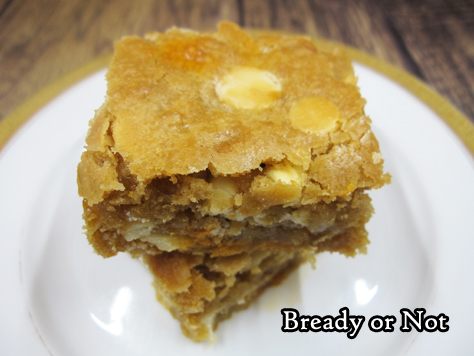 … where these bars were declared a new kind of crack. All of the bars were scarfed up. Not bad for an emergency oh-crap-what-can-I-throw-together recipe.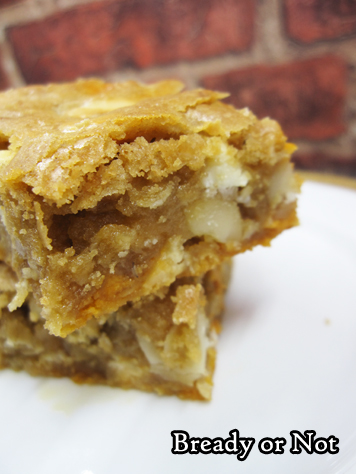 If you need to sub another kind of nut in this recipe, I think pecans and walnuts would work especially well. I do suggest sticking with the balance of 1 cup white chocolate and 1 cup salted caramel chips, though.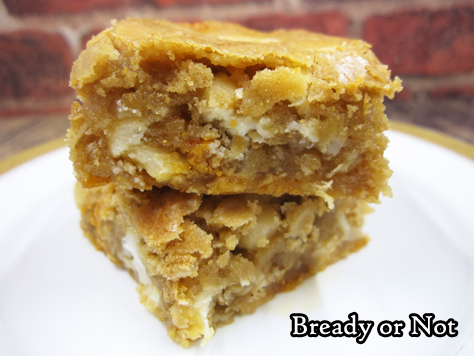 Caramel chips are very strong–like butterscotch chips in that way. They are a great ingredient, but you don't want to go overkill. Plus, this way you'll still have half a bag for another recipe. Scroll back on Bready or Not for some suggestions!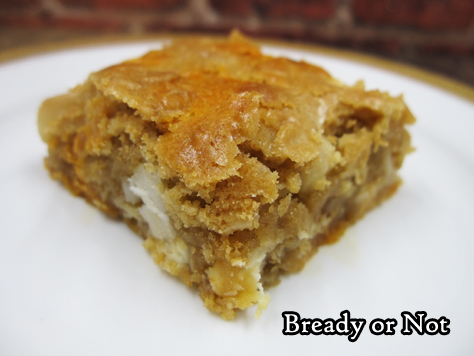 Bready or Not Original: Macadamia Nut Caramel Chip Blondies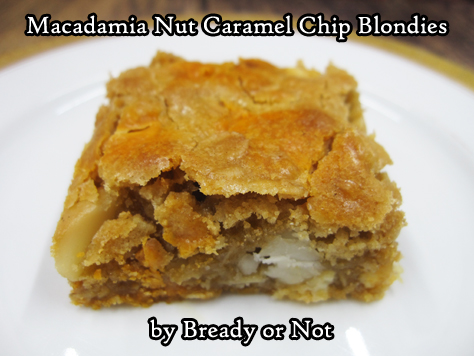 These delicious, fast-to-make bars utilize salted caramel chips, a fantastic new innovation on the baking aisle. These bars are chewy and sweet with a welcome crunch from the macadamia nuts.
1 cup (2 sticks) unsalted butter, softened
2 cups brown sugar, packed
2 eggs, room temperature
1 Tablespoon vanilla extract
2 cups all-purpose flour
1 1/2 cups old-fashioned rolled oats
1 teaspoon coarse sea salt
1 teaspoon baking powder
1 cup salted caramel chips
1 cup white chocolate chips
1/2 cup chopped macadamia nuts
Preheat oven at 350-degrees. Line a 9x13 baking pan with foil and apply nonstick spray or butter.
In a large bowl, stir together the butter and brown sugar until fluffy and smooth. Add the eggs and vanilla.
In a smaller bowl, sift together the flour, oats, salt, and baking powder. Gradually mix the dry ingredients into the wet. Stir in the two kinds of chips and macadamia nuts until just distributed.
Smooth out the dough in the prepared pan. Bake for 20 to 25 minutes, until the center passes the toothpick test. Cool completely before using the foil to life the contents from pan to slice on a cutting board.
Store in a sealed container with parchment or wax paper between the layers.
OM NOM NOM!
Read More
Let's kick off the 2018 holiday season the right way: with cake! A Glazed Earl Grey Maple Gingerbread Sheet Cake, to be exact.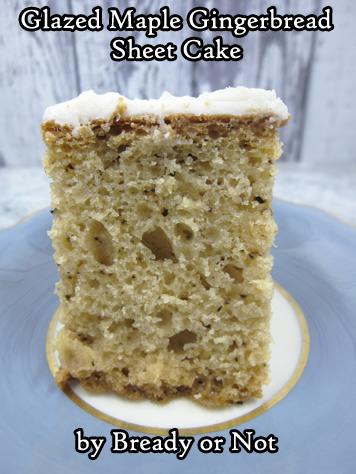 Earl Grey adds a lovely spice and kick that contrasts and complements the sweetness of maple. As you can see, tea flecks freckle the entire cake.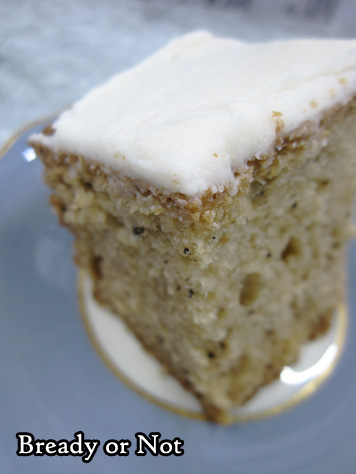 The cake is super-soft, moist, and cakey. I was amazed at how high it rose. It pretty much went to the top of my casserole dish.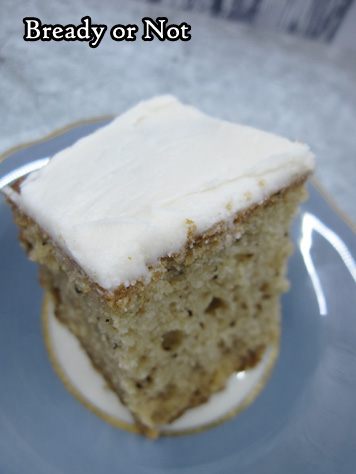 The cake itself isn't heavily sweet, which is why the thin layer of glaze is just what it needs. It provides a more potent sweet maple flavor.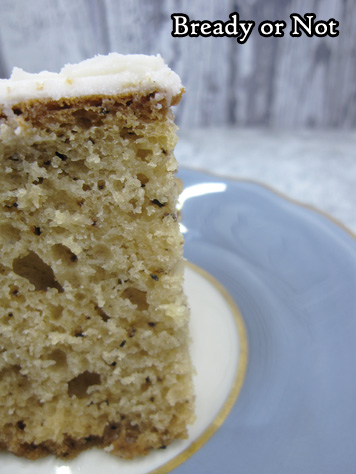 This is a cake that pairs well with tea (Earl Grey, hot, Picard-style?) and also with coffee. Serve this to a crowd! There's plenty of cake to go around.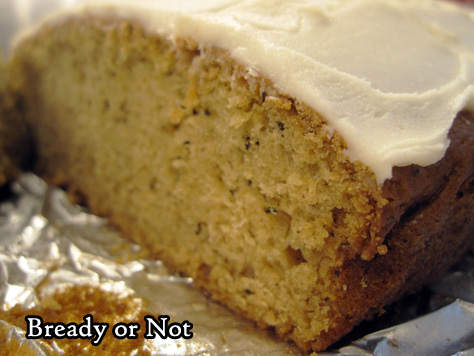 Bready or Not Original: Glazed Earl Grey Maple Gingerbread Sheet Cake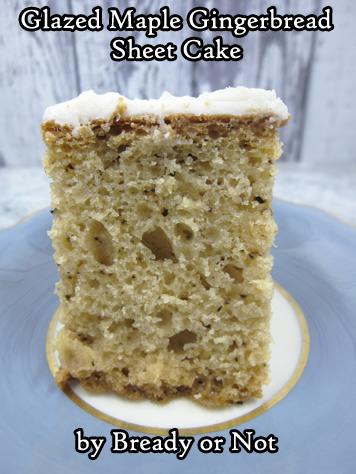 Earl Grey tea and maple form a superhero duo in this lovely sheet cake topped with a thin glaze with (you guessed it) more maple flavor. This cake bakes up high and soft, so make this to feed a crowd!
Cake:
2 eggs
2 cups pure maple syrup
2 cups sour cream (16 ounce container)
1 teaspoon vanilla extract
1/2 cup (1 cube) unsalted butter, melted
4 2/3 cups all-purpose flour
3 packets (heaping Tablespoon) Earl Grey tea
2 teaspoons ground ginger
2 teaspoons baking soda
1 teaspoon salt
Glaze:
2 Tablespoons unsalted butter, melted
2 cups confectioners' sugar
3/4 teaspoon maple flavor
2+ Tablespoons milk (almond milk works)
Preheat oven at 350-degrees. Line a 13x9 pan with aluminum foil and apply nonstick spray or butter.
In a medium bowl, stir together the eggs, maple syrup, sour cream, vanilla, and butter. Set aside.
In a large bowl, mix together the flour, Earl Grey tea, ginger, baking soda, and salt. Gradually stir in the egg mixture. Spread batter in the ready pan.
Bake 45 to 50 minutes, until the middle passes the toothpick test. Cake will have risen a great deal. Cool in pan on wire rack for a few hours.
Once the cake is room temperature, prepare the glaze. In a medium bowl, melt butter in microwave. Add confectioners' sugar, maple flavor, and two tablespoons milk. Stir until mixed and of spreadable thickness, adding more milk as necessary to loosen it or sugar to thicken.
Spread glaze atop cake. To slice, lift up by foil and set on cutting board. Store slices in sealed container(s) at room temperature; keeps well for at least 2 days.
OM NOM NOM!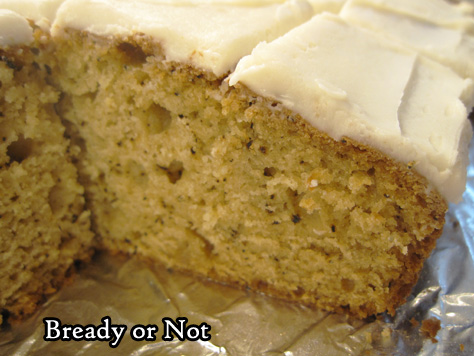 Read More