Bready or Not has featured a whole lot of sweets in recent weeks. Let's switch to something delicious and healthy instead: Butternut Squash and Quinoa Salad.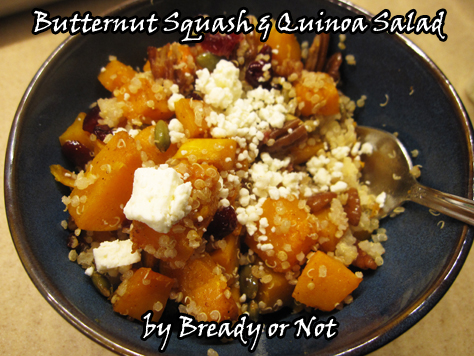 This still has a little bit of sweetness going on. Butternut squash is naturally awesome that way, and a sprinkling of cranberries adds some extra oomph. Add some pecans for crunch and feta because CHEESE, and this creates a bowl of happiness. The quinoa adds protein and kinda enjoys the ride along with all the other flavors.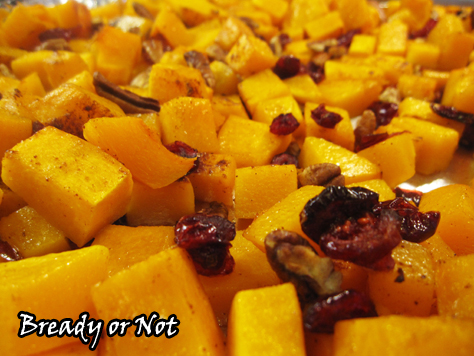 I cobbled this together from several other recipes. I wanted something that I could invest some time in and then use as a quick-fix dinner for several more days. I parcel it into three or four containers, depending on the size of the squash, and my meals are set! Or, you could use this as a gluten-free main dish or side dish to feed a group.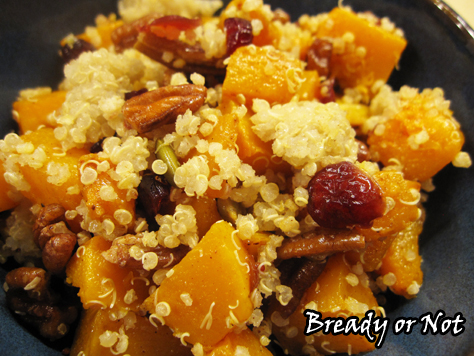 I can offer a few useful tips, too. I cook quinoa in my Zojirushi rice cooker. One cup of uncooked quinoa makes a LOT once its cooked, more than my salad recipe requires, but cooked quinoa keeps well in the fridge and can also be frozen and thawed weeks later without any issue.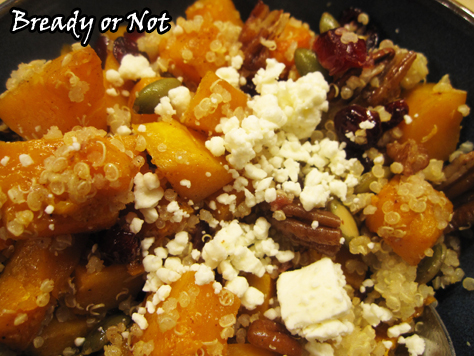 If you're intimidated by cutting butternut squash, there is a safe and easy way to do it!
Next week's Bready or Not officially kicks off my October-November tradition of pumpkin and autumn-themed recipes! Time to bust out the stretchy pants.
Bready or Not: Butternut Squash and Quinoa Salad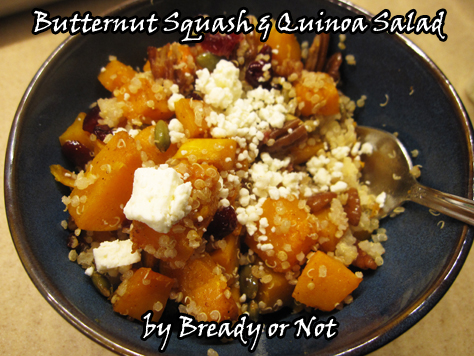 A Bready or Not Original! This salad takes some initial work to assemble, but it creates a big bowl of autumnal deliciousness! Serve as a main dish or side dish for a crowd, or use it as a solo meal over several days. This is gluten-free, healthy, and full of happiness.
butternut squash (2.5-3.5 pounds)
olive oil or avocado oil
pumpkin pie spice/cinnamon/nutmeg etc
1 cup cooked quinoa
1/2 cup dried cranberries
1/2 cup chopped pecans
feta cheese
Preheat the oven at 425-F.
Line a rimmed cookie sheet with aluminum foil. Spread out the chopped squash and drizzle with oil. Sprinkle spices of choice and some salt. Roast squash for 20 minutes.
While the squash is roasting, measure out the cranberries and place in a small bowl. Cover the cranberries with water and let them soak. Measure out the pecans.
When the 20 minutes is up, toss the squash in the pan. Drain the water from the cranberries, discarding water. Add the plumped cranberries and pecans to the squash, and season more, if desired. Cook another 10 minutes or so, until butternut squash is fork tender with roasted coloration.
Transfer the pan's contents to a large bowl. Gently stir in the quinoa. Serve hot or stash in fridge for later, and heat with microwave. Add sprinkle of feta just before serving.
OM NOM NOM!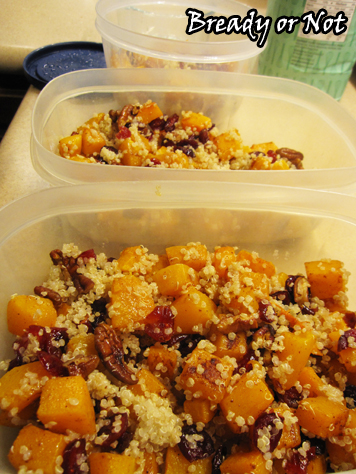 Read More
Hot, melted cheese is one of the finest things in life. Add some flavor oomph and you have the perfect yumminess to stuff in your face.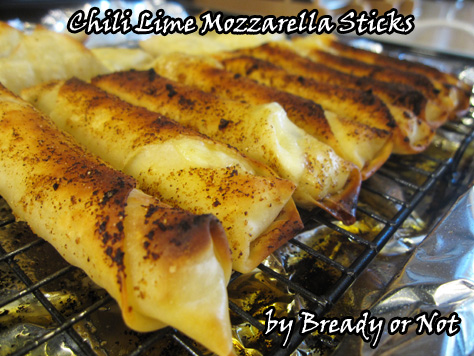 The concept is simple: freeze cheese sticks. Wrap them in egg roll wrappers. Apply seasoning. Bake. Devour.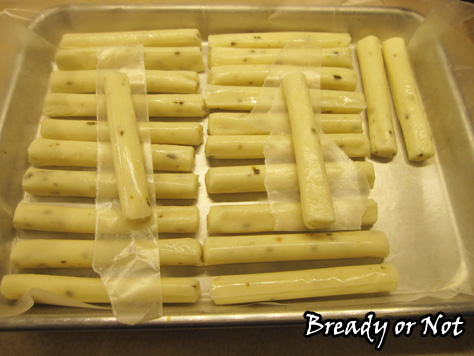 To boost this to another level, I recommend jalapeno mozzarella sticks. I was a little worried they might be too hot, but it turned out the flavor was very mild. DO NOT BE AFRAID OF THE CHEESE STICK.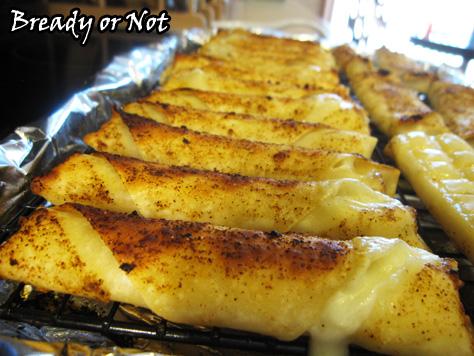 The wrapping process is pretty easy. It gives directions on the back of the egg roll wrap package. However, don't be like me and forget to brush water on the edges. (I think that's why my wrappers leaked cheese. This can be categorized as a fantastic problem, because I then had to eat puddles of seasoned cheese off the aluminum foil. Darn.)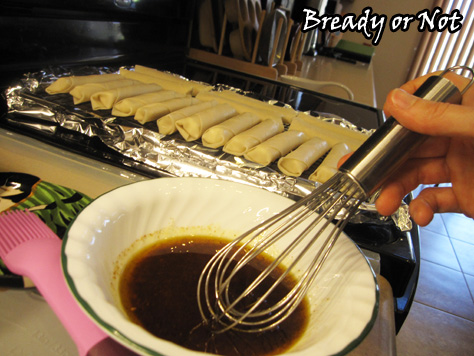 Modified from Carlsbad Cravings. First posted by me at the Holy Taco Church.
Bready or Not: Chili Lime Mozzarella Sticks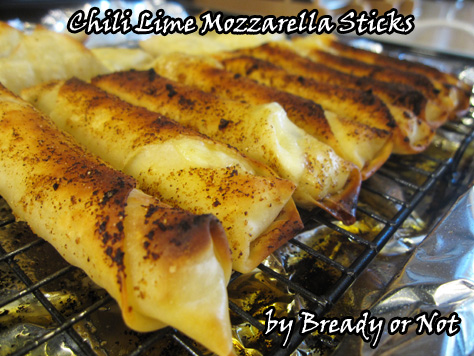 These dressed-up mozzarella cheese sticks are delicious hot or cold!
24 mozzarella sticks (regular or jalapeno)
20ish egg roll wrappers (only 21-22 come in a pack, so count your wrappers and maybe double stick some rolls)
1/4 cup water
Chili Lime Olive Oil
1 tablespoon lime juice
1/4 cup olive oil
1/2 teaspoon chili powder
1/2 teaspoon ground cumin
1/4 teaspoon onion powder or flakes
1/2 teaspoon garlic powder
1/2 teaspoon kosher or sea salt
1/4 teaspoon pepper
Unwrap mozzarella sticks and freeze for 1-2 hours. Do this on wax paper so they don't stick.
Whisk together the chili lime olive oil ingredients in a small bowl while the oven preheats to 400 degrees.
Wrap your sticks. Follow the directions on the package or you can Google it. Be gentle so you don't tear the thin pastry, and do remember to brush water on the edges so that it seals. Note that you likely won't have 24 wrappers in the pack, so count them and be prepared to eat some naked cheese or do some double-wrapped versions.
Place the wrapped cheese on a baking rack placed on a foil-lined baking sheet. Stir the seasonings again (the spices will settle) and then brush the oil all over the cheese sticks. Use up all that good stuff.
Bake for 15 minutes at 400-degrees. Adjust the rack and broil for 3-5 minutes, or until golden, then flip them to broil the other side.
Eat up! They are amazing fresh--dip them in the oil in the pan. Serve with salsa or guac. Also, these things are amazing cold out of the fridge, if you happen to have any leftover.
OM NOM NOM!
Read More