I present to you one of my very favorite chicken crock pot recipes, one I previously shared at Novelocity.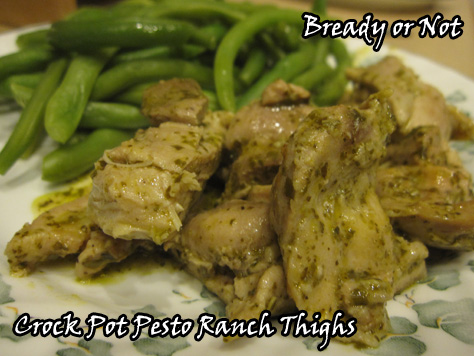 Seriously, I've been making this about once a month for a few months now. My husband even requests it. This is impressive since he 1) does not like ranch dressing 2) does not eat pesto.
There's something about the combination in this recipe, though, that is just plain savory and delicious.
This is my go-to meal when I'm on a writing deadline. It mixes up in five minutes and cooks itself over the afternoon, and produces chicken to feed us–quite happily–for days.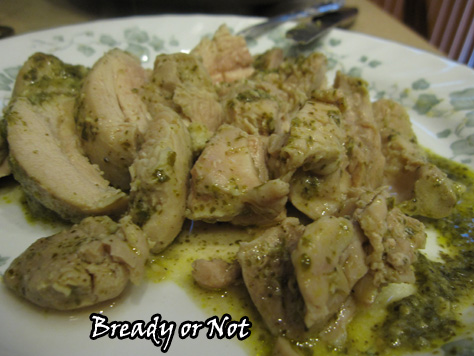 Modified from Picky Palate.
Bready or Not: Crock Pot Pesto Ranch Chicken Thighs
8 boneless skinless chicken thighs (2-3 pounds, thawed or mostly thawed)
6-8 ounce jar of pesto
1 packet ranch dressing dry seasoning mix
1/2 cup chicken broth or water mixed with chicken/vegetable stock concentrate or water
Place chicken thighs, pesto, ranch dressing (dry from the packet) and liquid into crock pot. Stir gently to coat chicken and combine everything.
Place lid on top. Cooking tip: It tends to cook in half the time you set on the crock pot, i.e., a 6-hour high setting means the chicken should be done in about 3 hours, depending on how many thighs are in there and how thawed they were to start. Leave thighs whole or chop. (If you chop, add them into the pot again on warm for 15 minutes so they can soak up more flavor! It's also a great way to make sure they are cooked through--just chop the meat and cook on high a while more.)
!These thighs are great with veggies, or in a salad, or cold out of the fridge. They also freeze wonderfully.
!OM NOM NOM.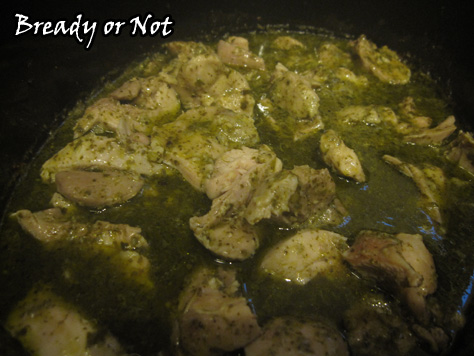 Read More
In recent years, we've been trying to eat more healthy stuff.
That means I've been trying more alternative grains like quinoa (okay), amaranth (bleh), and steel cut oats. What are steel cut oats, you ask? They are oats that haven't been processed as much. They take longer to cook and they have more texture and more nuttiness to them.
That whole texture things means they are awesome when slow cooked in the crock pot.
It takes maybe ten minutes to throw everything together the night before. I don't bother peeling the apples. Just chop, combine everything, put the lid on, close the pot.
In the morning, give it a good stir. Most of the liquid will have soaked it. It will be soft, though my crock pot creates some crunchy bits, too–which are my favorite, to be honest. Dish it up, and then add whatever topping you want– nuts (pecans are awesome), maple syrup, agave nectar, honey, more milk, more spices…
Keep the crock pot on "warm" and the slow-to-rise people can get their food, too!
Really nice thing? The leftovers. Stash them in the fridge, and for several days–maybe all week–you can scoop some out, zap it in the microwave, and go about your day.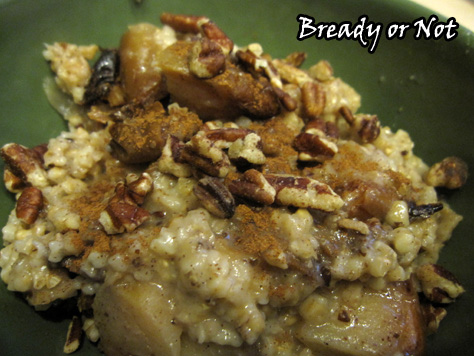 Modified from Jamie Cooks It Up.
Bready or Not: Overnight Apple Cinnamon Steel Cut Oats in the Crock Pot
2 medium-sized apples (cored, unpeeled, chopped)
1 cup steel cut oats (uncooked)
3 Tb brown sugar (or substitute with xylitol and a drip of molasses)
2 Tb butter
1/2 teaspoon cinnamon
1/2 teaspoon cardamom
1 Tb ground flax seed
1/4 teaspoon salt
2 teaspoons vanilla
1 1/2 cups vanilla almond milk (or any kind of milk)
1 1/2 cups water
Topping options:
milk
chopped nuts
maple syrup/agave nectar/honey
more spices
Spray the inside of your crock pot with cooking spray. Pour all ingredients (except the toppings) inside. Stir.
Cover and cook on low for desired length of time--10 hours is our usual.
Dish up oatmeal and add desired toppings.
!OM NOM NOM all week long!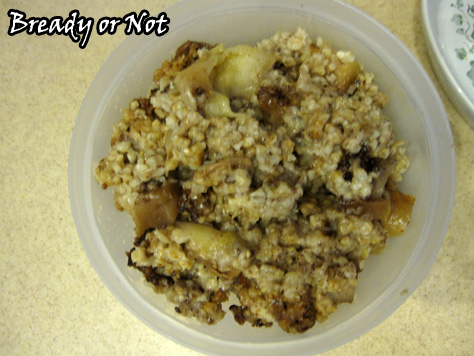 Read More