I review everything I read and post reviews on Goodreads and LibraryThing. That's not enough. Good books are meant to be shared. Therefore, I'm spotlighting some of my favorite reads here on my site.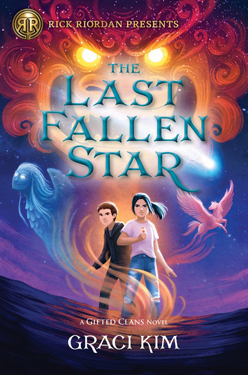 The Last Fallen Star (Gifted Clans #1) by Graci Kim
out now in print and ebook; BookShop, B&N, and Amazon [affiliate link]
I received an advanced copy of this book from the publisher via NetGalley.
Rick Riordan has done wonders for the lit world, not simply through his own books, but his support of other authors. I've read several middle grade books in his new Presents line, and there hasn't been a bad one in the bunch. Graci Kim's fun yet meaningful romp The Last Fallen Star is an incredible new novel inspired by Korean mythology and set in Los Angeles.
Riley is a relatable, great heroine from the start. She was adopted into a family of Gom, witch healers, but has no magic herself, much to her vexation. In an incredibly pleasant twist to familiar tropes, Riley has a fantastic relationship with her family, including her almost-the-same-age sister, Hattie. In fact, Hattie loves her so much that she's willing to do forbidden magic to split her magical power with Riley. Of course, everything goes wrong. The Gods and the supernatural get involved. Hattie is in terrible peril. Riley ends up on an urgent quest to save Hattie before her sister is lost forever.
The pace of the book is fast and punctuated by moments of humor and levity, but what I loved most was the story's genuine heart. The people here feel real and complicated. There are major messages of belonging and family, but they are not heavy-handed or suffocating. Plus, hey, the book is loads of fun, and a great way to learn about Korean mythology and culture. I not only want to read the next book in this series, but I want to read more of Kim's writing, too.
Read More
Sometimes you just need a few brownies. That's the perfect time for this Small Batch Cakey Brownies recipe.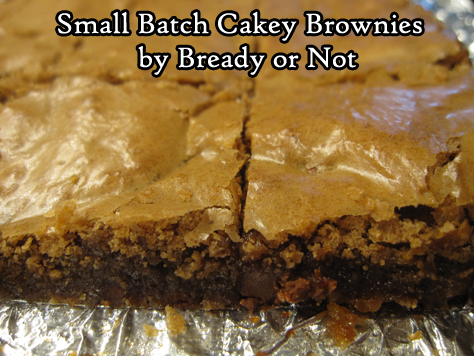 These are not monstrously thick brownies. They are thin with a crackled top, with a nice, cakey moist crumb.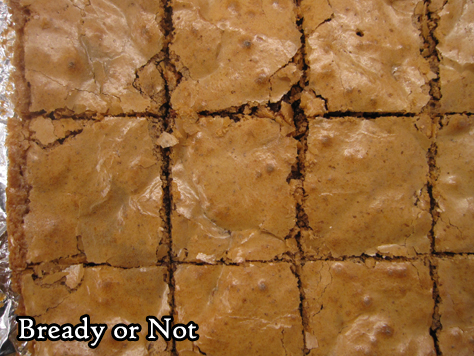 I created this recipe by combining about four other recipes, trying to find a middle ground recipe that my son would like. This is the one that turned out to be the winner.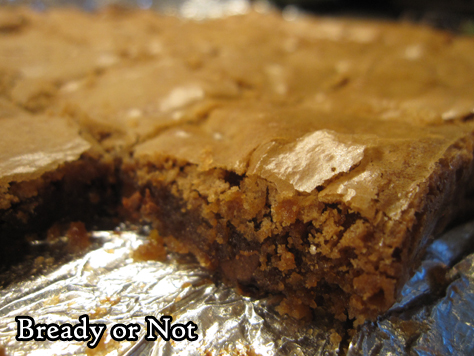 Even better, I found out these brownies kept well for an entire week in a sealed container at room temperature–and who knows, maybe they could last a lot longer? In any case, there's no urgent need to gorge on them lest they go bad.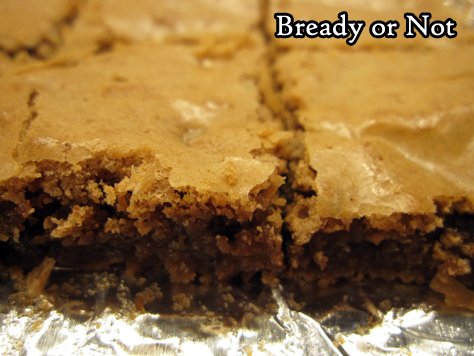 These brownies are all about goodness.
Bready or Not Original: Small Batch Cakey Brownies
This recipe makes a small, thin batch of delicious cakey brownies. These have a crackled top with loads of chocolate flavor below.
Ingredients
2

ounces

semi-sweet chocolate

6

Tablespoons

unsalted butter

1

cup

white sugar

2

large eggs

1/2

teaspoon

vanilla extract

1/2

teaspoon

fine sea salt

1/4

cup

all-purpose flour

1/4

cup

cake flour

1/2

cup

milk chocolate chips
Instructions
Preheat the oven to 350-degrees. Line a 9x9 or 8×8-inch pan with foil, letting foil overhang each side. Apply nonstick cooking spray.

In a microwave-safe bowl, microwave the chocolate and butter on high in 30 second increments, stirring between each burst, until everything is melted. Let cool slightly.

Using a stand mixer or hand mixer, in a large bowl beat together the sugar and eggs for 3 to 5 minutes, until they are pale, light, and fluffy. Pour in the cooled chocolate and butter mixture, followed by the vanilla.

Combine the salt and both flours in a bowl. Stir in the chocolate chips. Fold flour mix into the wet ingredients. Pour into the prepared pan and even out.

Bake for 20 minutes, or until a toothpick inserted in the center comes out with moist crumbs attached. Cool completely. Use foil onto a cutting board to slice into bars.

Brownies will keep for upwards of a week in a sealed container at room temperature.
Read More