These Cheddar Beer Bread Rolls taste as good as they look. Seriously.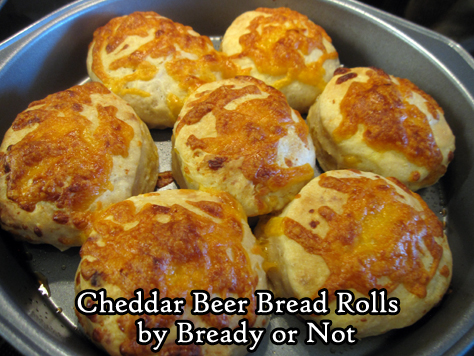 When the pandemic sent everything topsy-turvy in spring 2020, my husband ended up working from home more often. That meant I needed to feed him more often.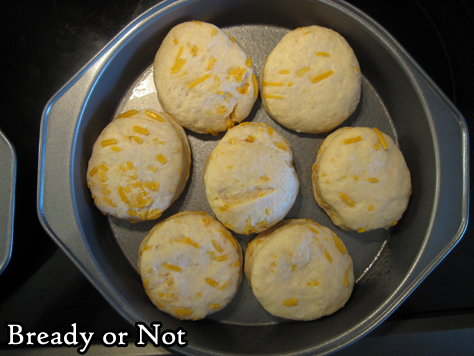 So, like so many people, I started baking more bread. These rolls were among the first of my experiments, and they were a major hit.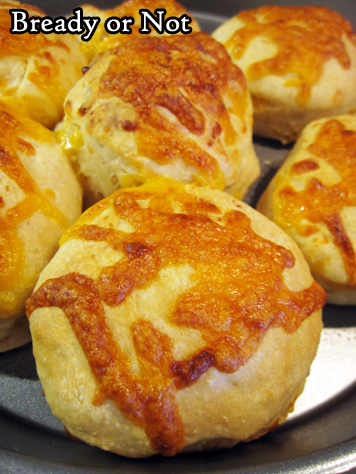 The original recipe from New York Times Cooking made a huge batch of rolls. I needed enough rolls to feed one guy, with a extras frozen for later.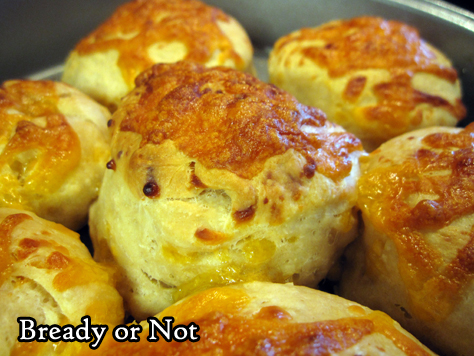 I rewrote the recipe to delicious results. I used a Guilt Lifter beer to make these, which lent a refreshing hoppy flavor. A heavier and darker beer will create heavier and darker flavor. Try different beers to suit your tastes and match your meal.
Bready or Not: Cheddar Beer Bread Rolls
Make a batch of about a dozen cheesy rolls with this straightforward yeast bread recipe! Beer lends some hoppy flavor to the dough, along with a boost of yeast. These rolls are fantastic fresh, but can also be frozen and heated up later for a delicious side dish. This recipe is halved and otherwise modified from a New York Times Cooking recipe.
Equipment
2 8-or 9-inch cake pans

2.5-inch round cutter

plastic wrap

basting brush
Ingredients
2

Tablespoons

unsalted butter

divided

3

cups

all-purpose flour

or bread flour

1/2

Tablespoons

instant yeast

1

teaspoon

coarse kosher salt

2

Tablespoons

honey

1

cup

beer

room temperature

1

cup

shredded cheese

120 grams
Instructions
Divide the two tablespoons of butter in half, separating them to soften at room temperature.

In a stand mixer with a bread hook attachment, stir together the flour, yeast, and salt. Follow up with 1 tablespoon of softened butter, honey, and beer. Mix on low speed for 4 minutes, scraping the bowl as needed. Increase the speed to medium for another 2 minutes, pulling the dough from the hook a few times. Add about half the cheese, reserving the rest to go on top later. Mix the cheese until it's distributed through the dough.

Lightly grease a large bowl. Transfer the dough there and cover with plastic wrap or a towel to let it rise until it's about doubled in size, about an hour.

Grease the two cake pans. Prepare a lightly floured surface and tip the dough onto it. Pat the dough out into a thick, even layer. Use the cutter to slice out rolls. Place them not quite touching in the pans. Reform scraps as much as possible to shape into more rolls. The rolls likely won't quite fill both pans.

Cover pans with plastic wrap and set in a warm place to rise again for 35 to 45 minutes. They may not increase a lot in size, but they should look puffy.

Preheat oven at 400-degrees.

Pull out remaining pat of butter and cheese. Brush the soft butter over the rolls, and follow up with a sprinkling of cheese. Try to keep the cheese from touching the edge of the pan, where it could burn.

Place both pans in the oven and bake until the rolls are browned and cheese is melted, 15 to 20 minutes. A digital thermometer in a center roll should read 190-degrees at minimum.

Let cool for at least 10 minutes before (carefully) pulling apart and serving.

Rolls can keep in a sealed bag at room temperature for up to 2 days. They can also be frozen and thawed for later enjoyment. They taste best hot. For best results, wrap them in foil and bake at 400 for about 10 minutes to warm them through.