I present to you a healthy, delicious breakfast option that just happens to taste like cookie dough. OH YEAH.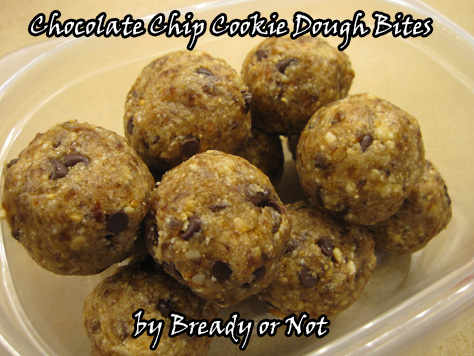 A while back I shared my recipe for Maple Energy Bites. Now it's time to share the cookie dough version. It's very simple. Throw ingredients in a high-powered blender. Form into bars or balls. Stash in the fridge. Eat.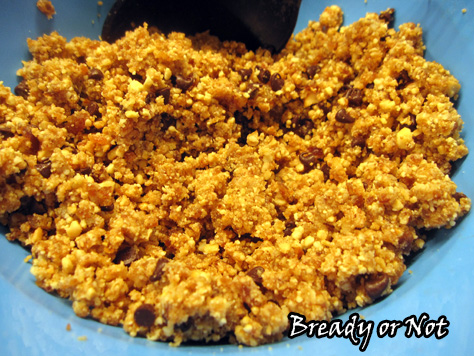 You can use any kind of nut here, really, or a combination of nuts, but cashews will be the closest to cookie dough. They have that natural buttery taste. The dates add sweetness and also act as a binding agent. I add cinnamon, but you can sprinkle in whatever flavors you want and make it more like a spice cookie.
I usually eat two or three for breakfast. They are great before a work-out. They also will keep for upward of two weeks in a sealed container in the fridge.
Healthy cookie dough. This is totally a thing.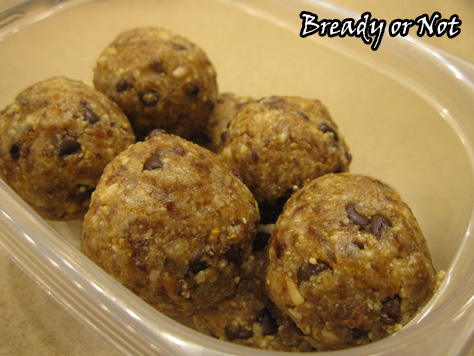 Bready or Not: Chocolate Chip Cookie Dough Breakfast Bites
Easy no-bake breakfast bites that are a lot like Lara Bars.
Ingredients
2/3

cup

dates

chopped, medjool best

1

cup

cashews

big pinch

cinnamon

1

teaspoon

vanilla

2

Tablespoons

mini chocolate chips

water

if needed
Instructions
In a bowl, combine all of the ingredients but the chocolate chips and water. Pour 1/3 or 1/2 the mix into a high-powered food processor or blender. Pulse. Stir it with a spoon or spatula--it will be thick and gum up the machine. Pour the blended mix out, then add in more of the nut-date blend until everything is mostly blended. It's okay to have some chunks. Add the mini chocolate chips.

Squeeze the mash between your fingers. If it doesn't want to stick together, stir in water by 1/2 teaspoon until it's cohesive.

You can shape them in two ways. Use a tablespoon scoop to form a ball, then compress them with your hands to tighten. Or, make bars. Place a sling of parchment paper in a bread pan. Pour the mash in. Compress as tightly as you can. Remove using the sling and cut to preferred size.

Keep stored in covered dish or closed baggie in fridge. Makes about 9 tablespoon-sized balls or 7 bars. Will keep for upward of 2 weeks.