Eat like royalty without a lot of fuss with this shortcut recipe for Galette Des Rois!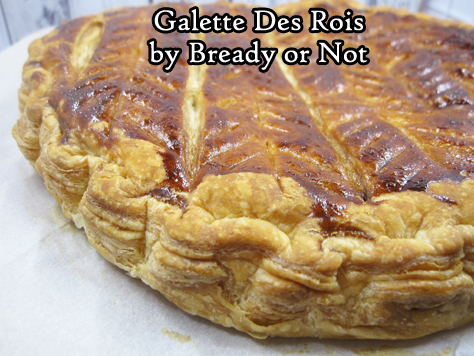 Galette des Rois (King Cake) celebrates Epiphany and is available throughout January in France.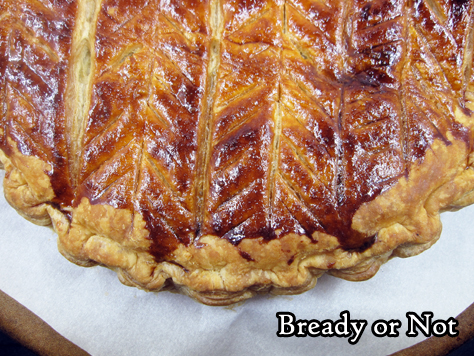 I am so not in France. Nor did I get to go there in June, as planned. Sigh. So, I have to make-do.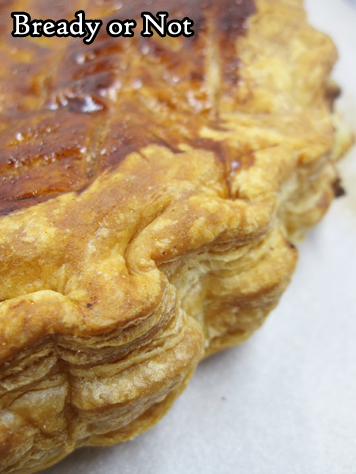 However, making-do can still be delicious. Frozen puff pastry is great stuff. You make a frangipane from scratch, but it's pretty straightforward.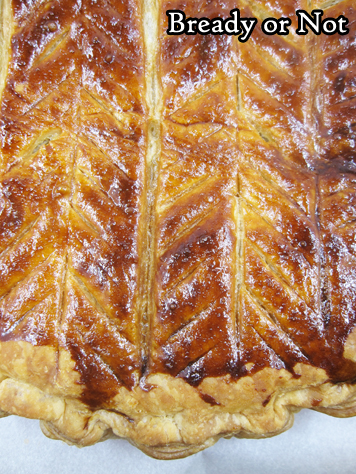 Honestly, the trickiest part for me was figuring out what pattern to etch into the top of the galette–and then hope that I didn't dig the knife in too deeply.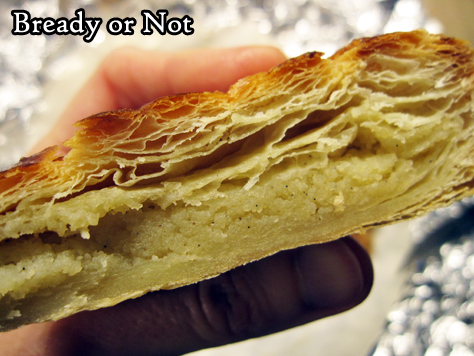 If you do a Google search for Galette des Rois, you'll see all sorts of different patterns you can do. I'm happy with my choice. And that I didn't cut too deeply.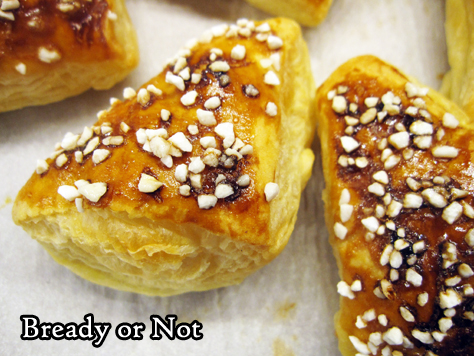 Because I am OCD and can't bear to waste food, I include a bonus recipe on a great way to bake-up the scraps of puff pastry, too.
The galette and scraps are tastiest the day they are baked, but they are still good for the next few days, too.
Adapted from Dorie Greenspan.
Bready or Not: Galette Des Rois
Galette des Rois (King Cake) celebrates Epiphany and is available throughout January in France. Make your own using this shortcut take using puff pastry, modified from a Dorie Greenspan recipe. Traditionally, an almond or other small charm is hidden within the cake as an edible surprise (warn the eaters!).
Equipment
baking sheet

parchment paper

pastry brush
Ingredients
Frangipane filling
6

Tablespoons

unsalted butter

room temperature

3/4

cup

confectioners' sugar

3/4

cup

almond flour

sifted

1/4

teaspoon

salt

2

large eggs

room temperature

1

Tablespoon

rum

optional but awesome

1

teaspoon

vanilla extract

or vanilla bean paste
Cake
1

puff pastry dough box

14-17 ounce package, cold

1

whole almond

for the traditional charm
Instructions
Prepare the frangipane
This can be made up to a day ahead, but needs at least an hour to chill before assembling the galette.

Beat together the butter and sugar until they are creamy and light. Add the almond flour and salt. Add one whole egg. Divide the other egg, adding only the white–reserve the yolk for later. Mix in the rum, if using, and the vanilla extract.

Transfer to a small bowl. Cover with plastic wrap, pressing it against the top of the mix, then place in fridge to chill.

Mix the reserved yolk with 1 teaspoon of cold water, and cover it and set it in the fridge as well.
Assembling the galette
Set out a complete sheet of puff pastry. Cut a 9-1/2 diameter circle out of the middle; if a 9-inch tart pan insert is available, use that as a handy guide. Set aside scraps from edges. Place the cut round on a parchment-lined baking sheet.

Repeat the process with the second sheet of puff pastry. Place all of the cut-off bits aside in the fridge for now.

Return to the pastry round on the baking sheet. Spread the frangipane evenly over the dough, but leave a 1-inch border bare. Place the almond somewhere on the filling. Moisten the border with some cold water. Set the second round of pastry on top and press it down around the edges to seal them together.

Use the back of a butter knife to scallop the edges by creating an indentation about a quarter-inch deep, spaced out about a half-inch apart. Refrigerate for about 30 minutes.

Preheat the oven at 425-degrees.

Pull out the chilled galette. Brush a thin layer of yolk over the top, but be very careful that it doesn't drip down over the edge, or the galette won't rise. Use a paring knife to etch a design on the very top of the galette while taking care not to cut too deeply. Add 6 small slits spaced out to act as steam vents.

Drop the oven temperature to 400-degrees. Bake the galette for 30 to 40 minutes, until it is puffed and golden brown. Keep an eye on it. If filling starts to ooze out, scrape it away so that it doesn't drip off the pan. If the galette is browning too fast, cover it with aluminum foil.

Transfer it to a rack to cool for at least 15 minutes. Expect it to deflate some, as that is the way of puff pastry. Best eaten when fresh, served warm or at room temperature, but can be chilled and eaten over the coming days.

Bonus: As soon as the galette is out of the oven, put the puff pastry scraps on the parchment. Brush the remaining yolk atop. Then add a topping like pearl sugar, turbinado sugar, or maple sugar. Bake scraps for 15 to 20 minutes, until pieces are puffed and golden. Like the galette, they are best eaten the same day, but are still quite edible after that.