I'm happy to welcome Wendy Nikel back for another bout of cupcakes and a time travel novella! The Causality Loop finishes up her four-book sequence from World Weaver Press, and it's fantastic. The perfect end for the series. (Disclaimer: I have indeed read them all, courtesy of WWP.) As novellas, each book makes for a quick read… but not so quick that you can't enjoy a cupcake (or two) as you snuggle into your reading nook for a much-needed escape from our current timeline.
If you haven't yet, check out Wendy's past visits:
THE CONTINUUM and Chocolate Coffee Cupcakes
THE GRANDMOTHER PARADOX and Cherry Cupcakes
CASSANDRA COMPLEX and Chocolate Blueberry Cupcakes
---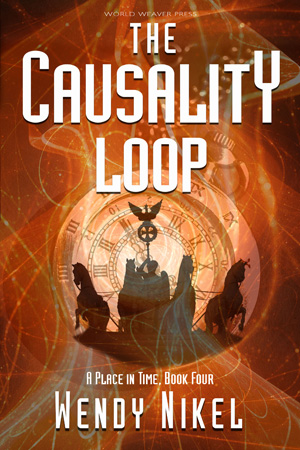 THE CAUSALITY LOOP
Fiery Surprise Cupcakes
by Wendy Nikel
It's release day for THE CAUSALITY LOOP, the fourth and final Place in Time novella, which means that once again, it's time for me to pull out my mixer, cupcake pans, and frosting tips, and share with you something delicious to celebrate my new book!
I have loved coming up with new cupcake recipes for each of these books. In a way, it's kind of like being on Cupcake Wars or Sugar Rush – some of my favorite Netflix competition shows. In each of these, the judges provide a theme or challenge for each round, and bakers have to come up with ways to meet it by producing a delicious dessert. And while the previous books were a bit easier to figure out – space-inspired chocolate coffee cupcakes with galaxy-swirled frosting for THE CONTINUUM; Midwest county fair-inspired cherry chocolate cupcakes for THE GRANDMOTHER PARADOX; and a blueberry cupcake for THE CASSANDRA COMPLEX, which was inspired by an old Fred Harvey recipe – this one was a bit more difficult to figure out, but I had a couple elements I knew I wanted to include.

The first of these was fire! As you can see from the cover, fire plays an important role in this book. The opening pages (which you can read here) start out with an act of arson, which our main character Dodge Greenley hopes will protect his family – and the scent of smoke follows him throughout the book.
The second element I wanted to include was a callback to the previous books. In many ways, this final novella brings things full circle, pulling in story threads, characters, and elements from the previous three books, so I wanted to tie that into my celebration cupcake somehow. I scoured recipe books and baking blogs, searching for the perfect combination.
I pulled out my favorite basic cupcake recipe and grated the zest of one lemon to balance out some of the bolder, more "fiery" flavors I was planning to add later.
After mixing all the dry ingredients (flour, baking powder) in one bowl and the wet ingredients (sugar, butter, eggs, lemon zest) in another, I combined them with a bit of milk. Then, it was into the cupcake trays and into the oven for 16 minutes at 350 degrees.
While they were cooling, I started on the orange frosting. I blended the orange extract and orange food coloring (I used the gel kind for a bright hue) into the butter until it was smooth, then alternated adding the powdered sugar and milk until it was the consistency I wanted. Then it was time to try out a new tip I'd run across in my research – a pastry bullet.
The idea with these is to lay out plastic wrap, drop your frosting directly onto it, and then twist it up into a "bullet" that's easier to handle and tidier to clean up. Tie one end close to the frosting and leave a few inches of twisted plastic wrap on the other end. I was really pleased with how this worked out. When it was time to frost, I could just throw it all into the pastry bag, thread the longer end through the piping tip, cut off the extra, and be ready to frost without the mess of trying to maneuver the frosting into the very bottom of the bag or the excess frosting coming back out the back of the bag.
But first, it was time to add my surprise! I found large, round sprinkles in the colors of each of my previous book covers – blue, red, and purple – and mixed them together in a dish. Then I took each of the cupcakes, cut a hole in the middle, and had my assistants (my kiddos wanted to help with this part) drop the sprinkles into the center of the cupcake.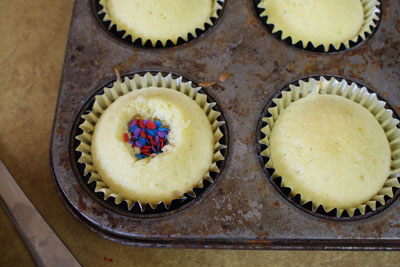 Then we took the inner section we'd cut out of the cupcake and placed the top of it back onto it to cover the hole we'd made. Ta-da! Now when you bite into the cupcake, you'll get a confetti-like surprise!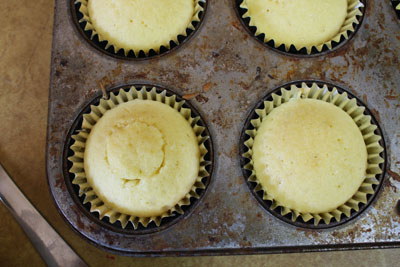 After we frosted the cupcakes, I threw them back into the fridge while I prepared the next step: our fiery cinnamon Red Hot drizzle. I dumped about half a cup of Red Hots into a saucepan and just barely covered them with water. Stirring constantly, I melted these over medium heat.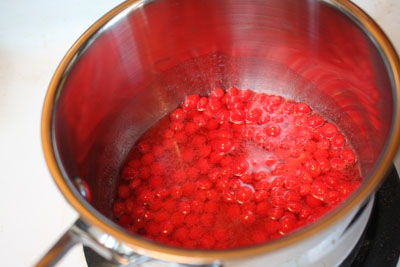 Once they were melted and I pulled them off the stove, I could drizzle them onto the frosted cupcakes. The drizzle thickens fairly quickly; I had to put it back onto the hot burner a couple times to thin it out again to make it easier to dribble onto the cupcakes.
I topped the cupcakes with orange and white sprinkles (if you do it while the Red Hot drizzle is still hot, they stick to it pretty well).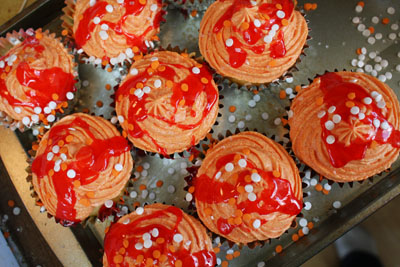 And now our fiery surprise cupcakes were finally ready for consumption!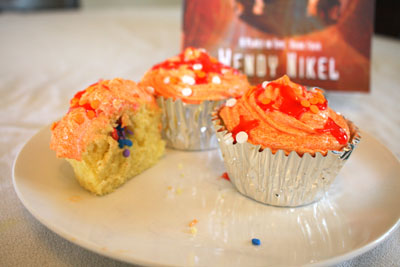 About THE CAUSALITY LOOP:
Dodge Greenley is tired of being the go-between for his time-traveling family. All he wants is for them all to be able to live together peacefully in one era—is that too much to ask? But after breaking all the Rules of time travel in a desperate attempt to retroactively free his parents from the threat of the secret organization his father worked for a hundred years earlier, Dodge makes a startling discovery. It turns out there's someone else stalking his family up and down the timeline, and this time, the menace may be coming from within the Place in Time Travel Agency itself.
Enlisting the help of his 22nd century coworker, Dodge sets off to the year 1915 to rescue his sister from a threat that might have originated at any point in their past, present, or future, proving once again that the greatest threat to time travelers is other time travelers.
THE CAUSALITY LOOP: Amazon | Barnes & Noble | iTunes/Apple Books | World Weaver Press
About the author:
Wendy Nikel is a speculative fiction author with a degree in elementary education, a fondness for road trips, and a terrible habit of forgetting where she's left her cup of tea. Her short fiction has been published by Analog, Nature: Futures, Podcastle, and elsewhere. Her time travel novella series, beginning with The Continuum, is available from World Weaver Press. For more info, visit wendynikel.com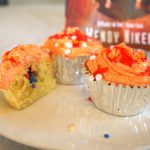 Print Recipe
THE CAUSALITY LOOP Fiery Surprise Cupcakes
A subtly citrus cupcake with cinnamon Red Hot drizzle and a surprise inside, inspired by THE CAUSALITY LOOP by Wendy Nikel
Ingredients
Cupcake Ingredients:
1 2/3

cups

all-purpose flour

1

teaspoon

baking powder

1

cup

white sugar

1

cup

butter 2 sticks

2 sticks

lemon zested

zested

4

eggs

3

Tablespoons

milk
Frosting ingredients:
1

cup

butter 2 sticks

2 sticks

4

cups

confectioners' sugar

6

Tablespoons

milk

orange food coloring

1

teaspoon

orange extract

Red Hot candies

sprinkles
Instructions
Preheat oven to 350 degrees F.

Sift together flour and baking powder. In separate bowl, blend sugar and butter. Grate lemon zest into the mixture.

Add eggs to sugar mixture one at a time.

Gradually add the dry mixture and milk into the sugar mixture until well blended.

Fill cupcake liners half full and bake for 15 to 17 minutes. Let cool.

Beat butter, food coloring, and orange extract until creamy. Alternate adding 1 cup confectioners' sugar and 2 tablespoons milk, mixing well after each addition, until all ingredients are mixed in.

When cupcakes are cool, carefully cut a hole into the top of each cupcake. Pull out the inner section of cake and set aside. Fill hole with sprinkles, then replace the top of the cake and frost!

Melt Red Hots on the stove. Drizzle melted candy over the frosted cupcakes. Top with sprinkles and enjoy with a good book!