Make ginger liqueur at home in a matter of days, and save a lot of money over buying the store stuff!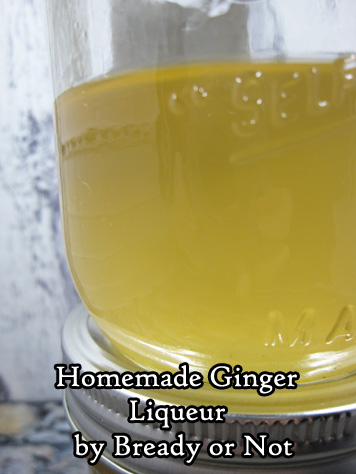 I'm frugal. I wanted to try an apple pie recipe that called for ginger liqueur, so I priced it. Um, no way was I paying for a $40 bottle when I needed just a smidge.
Therefore, I utilized the powers of the internet to find a way to make my own ginger liqueur. I ended up combining a couple recipes, and to great result. I used Kirkland brand vodka, from Costco, which made this even more of a bargain.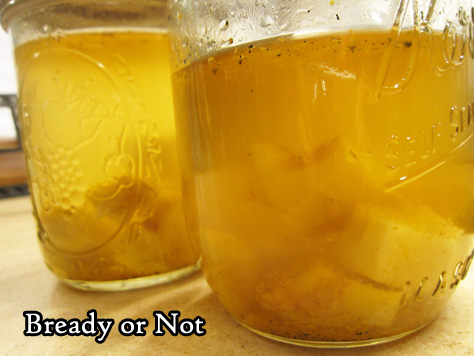 The result of the infusion is sublime. Citrus hits the palate first, followed by the ginger, leaving the mouth tasting fruity, zesty, and refreshed.
Use this ginger liqueur in baking (that apple pie recipe will be up in a few weeks!), drink it straight, or mix it into cocktails. It'll be delicious no matter how you drink it, and–thanks to the vodka–it will keep indefinitely.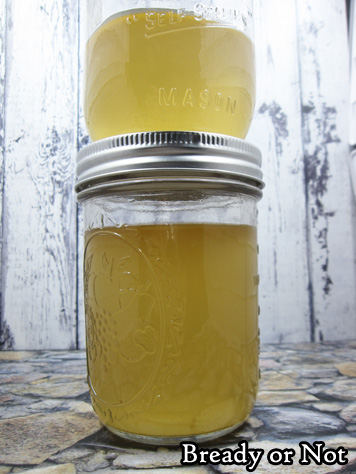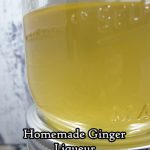 Print Recipe
Bready or Not Original: Homemade Ginger Liqueur
Make your own ginger liqueur and save a lot of money! Using store brand vodka from a place like Costco makes this an even better bargain. Use clean jars and lids, but you needn't sanitize as rigorously as when making homemade jams or jellies. Vodka itself is a sanitizing agent.
Ingredients
4

ounces

ginger root

peeled and diced

1/2

cup

caster sugar

1

vanilla bean

halved

16

fluid ounces

vodka

orange

zested
Instructions
Combine all ingredients in a large jar or bottle with a good lid. Shake to mix. Let steep for 2 days, shaking the jar a few times a day.

Strain out the solids using a coffee filter or cheesecloth. Rebottle it and let it sit a day or two more to mellow before using it.

Store sealed. Drink straight, use in mixed drinks, or in recipes. Should keep indefinitely.

OM NOM NOM!