'Tis the season. The season when I am keenly aware that air conditioning is the greatest invention in the last century.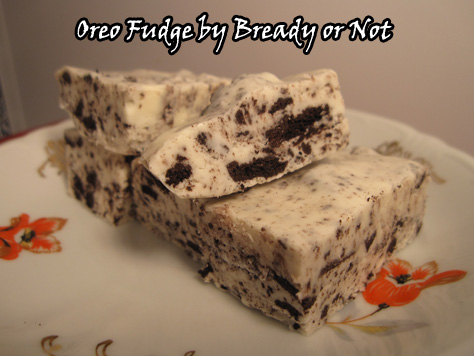 This also means I'll be pulling out a lot of non-bake sweet recipes, because 1) the oven makes the house hot, 2) I have a gazillion other things to do than stand in the kitchen for an hour, 3) fudge is awesome.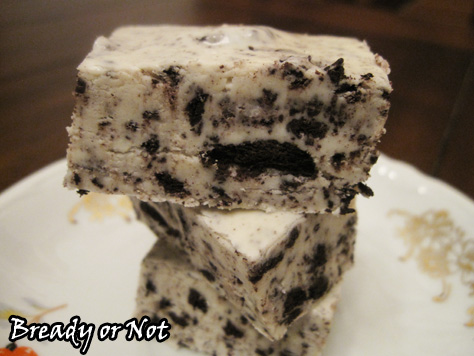 Some purists say this isn't kind of fudge isn't fudge because it's not made on a stovetop, with a candy thermometer, with the proper animal sacrifices. I say they're rather silly. All fudge is good and worthy.
This recipe is so easy to throw together. It's great for potlucks because it makes a ton of fudge. It also keeps well in the fridge.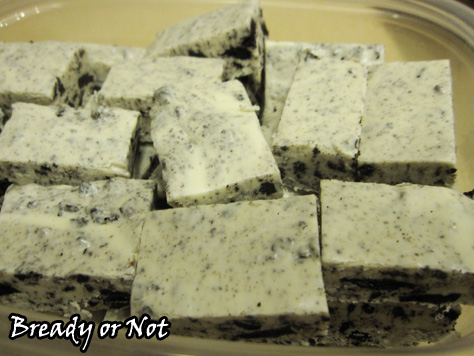 This is a good time to point out a similar recipe I posted a few years ago–Oreo Bars, featuring three ingredients. Oreos. Marshmallows. Butter. It's like Rice Krispie Treats, but uses Oreos. Also non-bake, and makes a smaller amount.
Just in case, you know, you're wanting to make something without chocolate and, uh, healthier.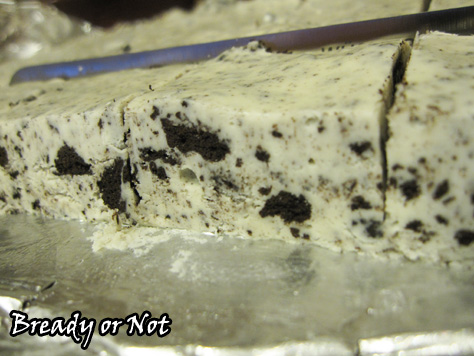 Tweaked from Shugary Sweets.
Bready or Not: Oreo Fudge
Easy no-fuss fudge that uses Oreos!
Ingredients
3

cups

white chocolate chips

20

Oreo cookies

crushed/chopped/maimed

7

oz

marshmallow fluff jar

14

oz

can sweetened condensed milk

1

teaspoon

clear vanilla extract
Instructions
Prepare a 9x13 pan by lining it with foil and applying nonstick spray.

Either in microwave or on stovetop, carefully melt chocolate with canned milk and marshmallow cream. If microwaving, do it in short bursts because it can burn fast. Stir often.

When the mix is smooth, add the vanilla extract. Fold in the Oreos.

Refrigerate 3 hours until firm. Cut into bite size pieces. Keep stored in fridge.