Good ol' Rice Krispie Treats are a standard from my childhood. I used to think it was an amazing twist to get the cocoa version. But this? Oh, people. My husband took these to work and was informed that these were "better than crack." I take that as pretty high praise.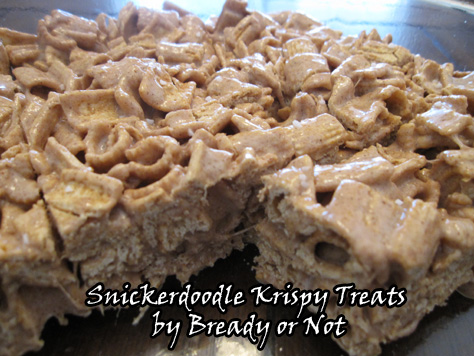 I found the original recipe because it was labeled as Churro Crispy Treats. For me, though, churros are very much a texture thing and the name didn't fit. They seem more Snickerdoodle-like to me. They are soooo chewy and delicious.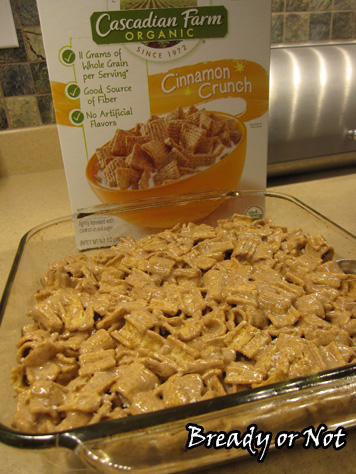 The recipe is very straightforward. Use any brand of cinnamon crisp cereal. Add marshmallows. Add more awesomeness. Heck, I heated everything in the microwave. Make sure you sprinkle some coarse salt and turbinado sugar on top, too. It adds an extra oomph.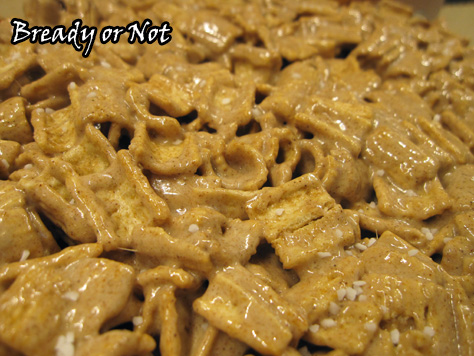 Modified from Brown Butter Churro Crispy Treats at The Law Student's Wife.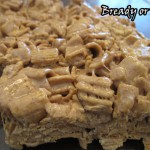 Print Recipe
Bready or Not: Snickerdoodle Krispy Treats
Ingredients
6

Tablespoons

unsalted butter

1

Tablespoon

brown sugar

1

Tablespoon

cinnamon

1/2

teaspoon

pure vanilla extract

10

ounces

miniature marshmallows

1 bag

1/4

teaspoon

kosher salt

6

cups

cinnamon rice squares

like Cinnamon Chex or Cascadian Farms Cinnamon Crunch

more kosher salt or pretzel salt plus turbinado sugar for the top
Instructions
Coat an 8-inch square pan with butter or non-stick spray. Stage the sugar, cinnamon, and vanilla, and marshmallows so they are ready to add quickly.

This can be made in the microwave or on the stovetop. Either method: on low, gradual heat, melt the butter in a large container.

Once the butter is melted, remove from heat and stir in the brown sugar, cinnamon and vanilla. Add marshmallows and stir to melt. The hot butter should melt the marshmallows, but if needed give it an extra zap in the microwave or briefly heat on low on the stovetop. Stir until no white streaks remain.

Remove from heat again, if needed. Add in the cinnamon cereal and 1/4 teaspoon salt. As soon as everything is coated, pour it into the prepared pan. Quickly spread it to the corners and evenly press it down. Sprinkle more coarse salt and turbinado sugar on top.

Let the pan cool for at least 15 minutes before slicing and serving.