My Book Deal kitchen renovation is done! Again, this involved three stages:
– undercabinet lights (which you'll see in the first "before" pic down there
– backsplash tiles the whole length of our long counter
– boards to cap our cabinets on top, which are visible from the stairs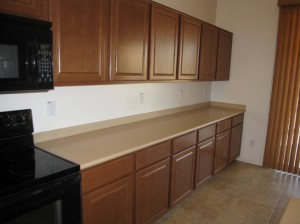 See? Very plain white. I had a few potholders and decorative things up before, but it never really gave the room atmosphere. The kitchen really needed a sense of grounded space because the ceiling in there is about 30 feet high and the space is shared with the living room and dining room.
AFTER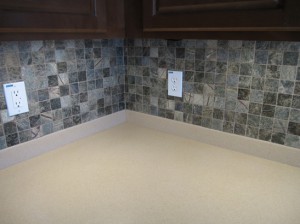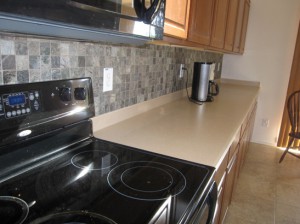 Ta-da! I'm so pleased with how everything turned out. The tile is tumbled green marble 2×2 and we used mocha-colored grout. We've lived here since 2008 and the kitchen has always been my space, but now it really feels MINE.
Maybe if I sell another book, I'll upgrade my stove…