New stories! New poems! New interviews! Shiny new galleys! Here's the latest news.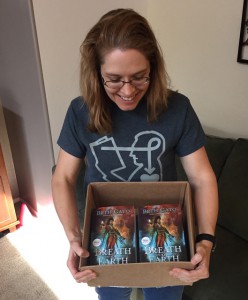 Novelocity:
– My advance copies of Breath of Earth decided to play with my cat and climb trees
Stories:
– "The Souls of Horses" in Clockwork Phoenix 5 (out today!)
– The Human is Late to Feed the Cat" in Nature Magazine
Podcast:
– "Stitched Wings" republished in audio at The Overcast
Poem:
– "View From Above" in Space and Time, issue 125
Interviews regarding The Clockwork Dagger series:
– Beth Cato on WINGS OF SORROW AND BONE and Historical and Cultural Accuracy at SF Signal
– Catching up with Beth Cato, author of Wings of Sorrow and Bone, and the Clockwork Dagger series at My Bookish Ways
– Steampunk, Gremlins, and Maple Sugar Cake: My interview with Nebula nominated author Beth Cato by Ruth Vincent
***
A reminder, too–my next Clockwork Dagger story is out in three weeks! It can be preordered now for just 99-cents.
#SFWAPro