I've commented before that publishing events seem to happen in odd little bursts. I'll hear nothing for months, then have a torrent of acceptances/rejections. The same goes for publications. Up until last week, I had zero stories published in 2014. Then in about a week, I had three out, two of them pro. Plus two poems.
Need to procrastinate and read? Well, here you go:
– My story "Bread of Life" is up at Nature. This is my third story in Nature, and the tale is… appropriately me. There's also a blog post with the story behind the story.
– Daily Science Fiction published "From the Ashes," one of those rare, uplifting post-apocalyptic stories.
– At Fantasy Scroll Magazine you can read my longer story, "My Brother's Keeper." It features southern-fried magic, family love, and pie.
As for poetry:
– Devilfish Review published "The Migration of Winged Jukeboxes." More poetry should mention Steve Perry, I think.
– Kaleidotrope has a more whimsical poem, "Squished Things."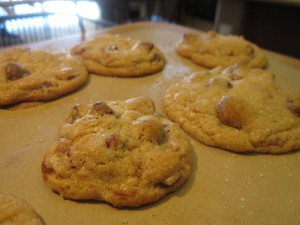 I've also popped up elsewhere online:
– I took part in an SF Signal Mind Meld on The City and Epic Road Trips.
– I had a new recipe at the Holy Taco Church: Bacon Fat Chocolate Chip Cookies.
– I also asked one of my favorite authors, C.E. Murphy, about how she plotted series. She answered, and it's interesting stuff.