In recent years as I have become more involved with SFF conventions, I have become a frequent flier. I had heard about TSA Pre-check but was rather appalled at the idea of providing the government with money so that they could treat me like a law-abiding citizen. However, recent events caused me to grit my teeth and pay out the funds.
Here is what I learned through the process.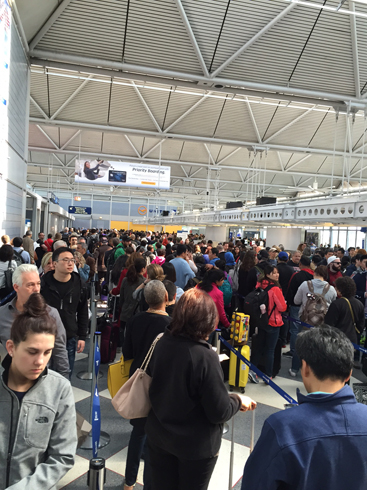 Why I Decided to Do It
May 16th, 2016. That was the day that caused Chicago's O'Hare Airport to feature prominently in international news for the rest of the week. It was one of those "I was there, man" kind of moments for me. I was flying home from Nebula Weekend and had to stand in a security line of epic proportions. It took me a full hour and twenty minutes to makes it through that morning, but news reports stated that later in the day, the waits extended for three and four hours, causing hundreds of people to miss their flights.
What Pre-Check is
It's the fast lane through security. You pay $85 (or $100 for the global version) and undergo a complete security screening. As a writer using this to attend conferences, that expense is a tax write-off; also note that if you have a fancy business-level credit card from places like American Express, they might refund the cost entirely. Check with your credit card for details.
If you meet with FBI approval, you are provided with a KTN code that you input into travel reservations. That causes Pre-Check to be printed on your boarding pass (most of the time). The Pre-Check line means that you:
– do not need to remove your shoes
– do not need to pull out your liquid toiletries
– can leave laptops stowed in luggage
– have a much shorter wait in line
– have a kid 12 or under with you, they can also use Pre-check
This benefit is good for five years. The general consensus is that you fly more than a couple times a year, the service is worthwhile because of the amount of time it will save you.
Read the official FAQ on the program.
The Online Application Process
If you go to the link above, you will find the online form to sign-up. It is surprisingly short and straightforward. However, this is the first stage. Once that is submitted, you must also attend an in-person interview.
The In-Person Interview
I live on the far western edge of Phoenix, Arizona. The interview locations were quite far from me: Sky Harbor Airport, and downtown Glendale. In mid-May as I looked at appointment times, Sky Harbor was booked out about two weeks, while Glendale was booked for a solid month. That latter location was much more convenient with me, so I decided to endure the wait. Locations also accept walk-in appointments, but I heard from friends that those involved extensive wait times in the office. I didn't want to mess with that.
The TSA site had detailed instructions on my interview location and its address, but as I researched, I found it also omitted some important details. The business is listed as Identogo. People were missing their appointments because they couldn't find it. That's because Identogo is inside of an H&R Block, and the H&R Block is what has prominent signs along the street and on the building. I don't know if Identogo is partnered with other businesses, but keep this issue in mind if you are not going to an airport for your interview.
I ended up spending a full hour and a half of driving to attend my 8-minute interview session. I was among the first appointments of the day, and found a sterile lobby area with many chairs and a coffee pot. More and more people arrived during my 15-minute wait; it seemed 95% of the business there was for TSA Pre-check, not for H&R Block's tax services.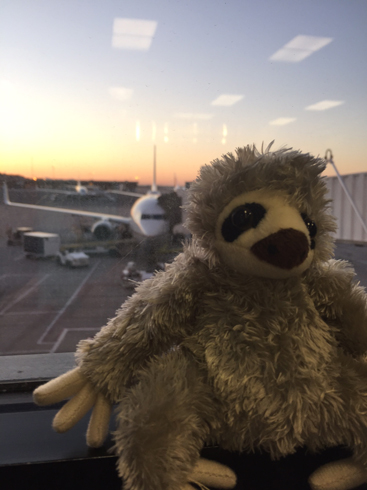 I was called back at my exact appointment time. A monitor screen was set up so that I could review the details I submitted via the online form, and I added in some facts along the way, like my maiden name. I presented my passport, which he scanned. My fingerprints were preserved digitally (punny yet true). The gentleman told me that it could be a few weeks until I was approved, and if I hadn't heard anything for 30 days, I could query TSA about my status. I had a receipt printed as well as emailed to me that included the link where I could log-in and check my status at any time.
The Non-Wait for Approval
I knew from research online that some people had results very fast. Even so, I was stunned when I checked online the next day and found I was already approved! I then logged into an existing airline reservation to add the KTN.
Using Pre-Check, and a Nice Surprise
One annoying thing is that even though you pay for Pre-check, the benefit might not show up 100% of the time. Therefore, I was pretty nervous about if I would get to use it on my flight the next week. It turned out that not only did I have Pre-check, but so did my husband and 11-year-old son! My entire party seemed to be included within my security umbrella.
Is It Worth It?
Having used it for over a year, I'm very happy with the benefits. I have found the security theatre to be very stressful in the past as I try to track all my belongings, and it's wonderful to keep everything stowed away, my shoes on my feet, and just endure a check by the guards. To have this benefit extend to my other family members was especially nice.