I saw a retweet on Twitter earlier this month about a cookie exchange blog hop. Despite my deadlines and stress, I couldn't help but perk up in interest. COOKIES! BLOG HOP! This is so my sort of thing.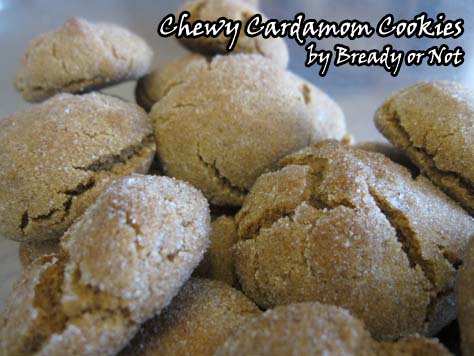 The Blog Hop originated with Linda Poitevin and I was tagged by Debra Vega, who shared a tasty looking recipe for Pumpkin Peanut Butter Chocolate Chip Cookies.
I had a tough time deciding on what cookie recipe to share, but I decided on one of my old favorites: Chewy Cardamom Cookies.
This recipe makes chewy, spicy pillows. They are the perfect cookie leading right into Christmas. They smell divine, and the taste is just as amazing!
The rules of the blog hop ask participants to tag four authors in turn, but you won't be smote for tagging more or less (… or will you?). In any case, I tag Dawn Bonanno and Pam Wallace! Their cookie posts are due in a week, 12/23.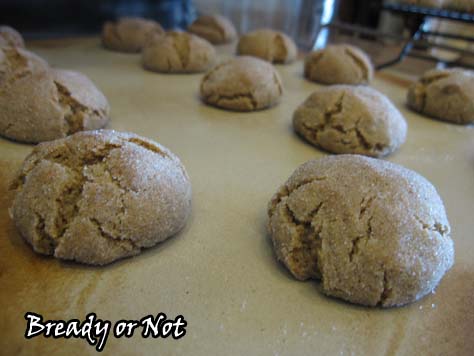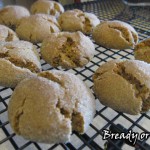 Print Recipe
Bonus Bready or Not: Chewy Cardamom Cookies
Plump delicious spice cookies.
Ingredients
1/4

cup

unsalted butter

melted

1/2

cup

shortening

1

cup

brown sugar

packed

1

teaspoon

baking soda

1 1/2

teaspoons

cardamom

1

teaspoon

teaspoon ground cinnamon

heaping

1/4

cup

molasses

[could try substituting honey]

1

egg

room temperature

2 1/4

cups

flour

1/4

cup

sugar

1/2

teaspoon

cardamom
Instructions
Preheat oven to 375 degrees. In a mixing bowl, blend the butter and shortening until creamy. Add in the brown sugar, baking soda, cardamom, and cinnamon.

Add the molasses and egg, and once that's combined, slowly mix in the flour.

Using a teaspoon scoop or spoon, shape dough into small balls and roll in the cardamom and sugar.

Bake cookies for about 10 minutes or until edges are set and tops are slightly cracked. They will be pillowy--if too much so, flatten the next batch with a spatula or glass, if you wish.
Makes about 45 cookies, teaspoon-size.