Welcome to MACADAMIA NUT MONTH! Why is this Macadamia Nut Month? Because next month on the 23rd, the final book in my Blood of Earth trilogy comes out! Macadamia nuts are a big product of Hawaii, and Hawaii is a major setting in Roar of Sky. Plus, macadamia nuts are awesome.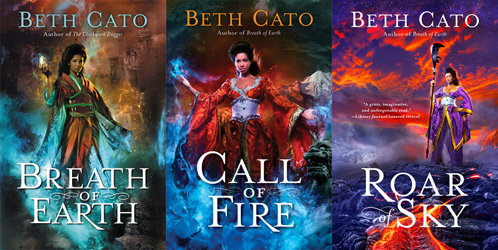 If you love these nuts, get ready to bliss out. This month includes recipes for:
White Chocolate Macadamia Nut Pie
White Chocolate Macadamia Nut Cookies
Lemony Macadamia Nut Bars
Mini Fruit Cake Loaves to make now for the holidays (macadamia nuts optional) (today)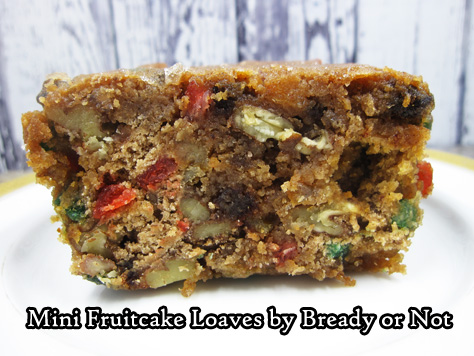 Fruitcake is one of the most maligned holiday foods out there, but people do love it. My dad sure does. I wanted to make him a fruitcake that proved how awesome they could be.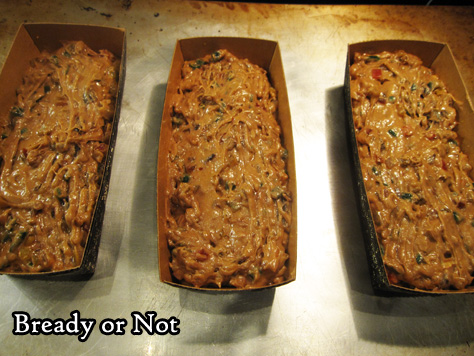 The recipe you see today is one I've been experimenting with for a few years now. One problem that I had with a lot of existing recipes is that they make a ton of fruitcakes. Therefore, I wanted to find the right recipe to cut in half for easier fridge storage and eventual transportation to California.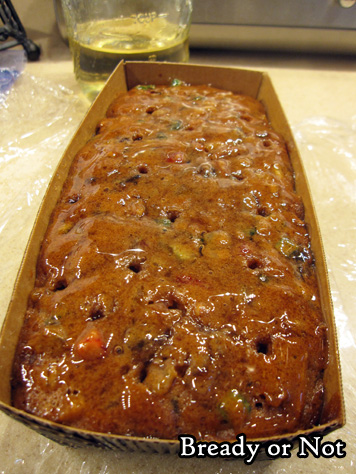 I used a highly-rated King Arthur Flour recipe and tweaked it a ton. I printed out guides of fruitcake-making advice and incorporated that information, too.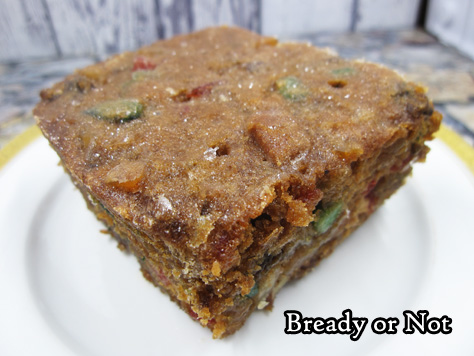 My dad doesn't like fruitcakes that are heavy on nuts. Therefore, I place more emphasis on the fruit. Customize the kinds of fruits and nuts to your preference. I often use a combination of pre-made "fruitcake mixes" from the grocery store along with dried golden raisins, chopped apricots and dates, etc. Whatever I have in my cupboard or can grab on sale.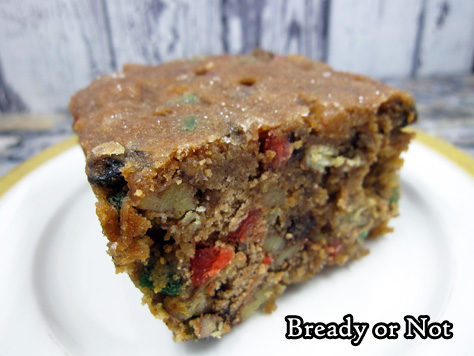 The same with the nuts. If you hate walnuts, don't use walnuts. Include just one nut or use a wide variety, just make sure they are chopped up. You don't want huge pieces.
The use of cocoa powder seems odd, but it's there to add color. That's a holdover from the original King Arthur Flour recipe. I was afraid that it would add a chocolate flavor, but it doesn't at all. There are so many other complex flavors going on, it doesn't stand out.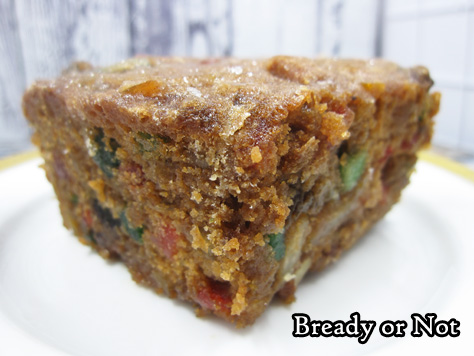 The liquid to macerate the fruit can be alcohol or standard fruit juice. My preference is to get some help from good old Captain Morgan. In the simple syrup, you can also omit the rum, if you so choose.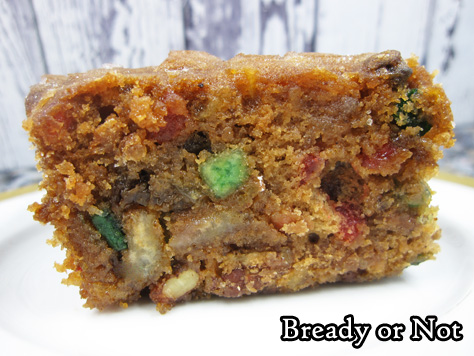 If you have any questions about this fruitcake recipe, feel free to comment on this page or reach out via social media. Just don't wait too long–if you want these loaves ready for the holidays, you'll need to bake them soon!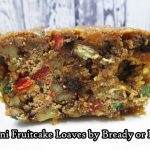 Print Recipe
Bready or Not Original: Mini Fruitcake Loaves
I advise using disposable mini loaf pans for this recipe. Measurements for these pans vary widely; this recipe was tested with pans that measured 7" x 2.5" width, 1.8" high, and the batter filled three pans. If you're making these loaves as a holiday gift, plan to bake at least 6 weeks before the gift-giving date. The loaves will need to be basted with a simple sugar glaze each week for those 6 weeks in order to "ripen" the fruitcakes. After the glazing is done, the loaves can be removed from their pans to be frozen indefinitely, or well-wrapped and stored in a cool, dark location for months.
Ingredients
Fruit:
1

lb

+ 4 ounces fruit

20 ounces total, dried and/or candied, including fruitcake mixes, raisins, chopped dates, cherries, apricots, crystallized ginger, etc

6

Tablespoons

rum

or brandy, apple juice, or cranberry juice
Batter:
1/2

cup

unsalted butter

1 stick

1

cup

brown sugar

packed

1/2

teaspoon

salt

1/2

teaspoon

cinnamon

1/8

teaspoon

allspice

1/8

teaspoon

nutmeg

1/2

teaspoon

baking powder

2

large eggs

room temperature

1 1/2

cups

all-purpose flour

1

Tablespoon

cocoa

optional, for color

2

Tablespoons

corn syrup

1/4

cup

apple juice

or water

1

cup

nuts

chopped, one kind or a variety: almonds, pecans, walnuts, macadamia nuts, etc
Simple Syrup Glaze:
1

cup

white sugar

or caster; or for deeper flavor, turbinado

1/2

cup

water

1/2

Tablespoon

rum

optional
Instructions
Prepare the fruit:
Combine the fruit with the liquid of choice in a non-reactive bowl; cover and let rest overnight, at minimum.
Prepare simple syrup:
Combine the sugar and water in a small saucepan. Heat until the sugar is dissolved. Stir in the liquor, if using. Cool completely. Keep stored in jar in fridge to brush the loaves over the coming weeks.
Make loaves:
Preheat oven at 300-degrees. Place the butter and sugar in a large bowl and beat together, followed by the salt, spices, and baking powder.

Beat in the eggs, scraping the bowl after each addition.

In a separate bowl, whisk together the flour and cocoa.

Add the flour mixture and the corn syrup to the butter mix. Scrape bowl well, then add the juice, the fruit with its liquid, and the nuts.

Apply nonstick spray to the mini loaf pans; pan measurements vary, but this recipe should use 3 to 4 pans. Spoon batter into the pans, filling them about 3/4 full.

Bake for about 1 hour to an 15 minutes. Cakes are done when a toothpick stuck in the middle comes out clean. If desired, poke the cakes throughout with a skewer to allow more liquid to seep in. Brush tops with simple syrup for the first time.

Allow loaves to completely cool, then wrap them tightly in plastic wrap. Store in the fridge or in a cool, dark location.
After baking:
Once a week for the next six weeks, unwrap loaves to brush with more simple syrup (making more in needed).

After 6 weeks of ripening, the cakes can be eaten, stored in fridge longer, or frozen.

OM NOM NOM!
Read More
I'm happy to welcome author Stacey Berg to Bready or Not! Her novel Dissension was released by Harper Voyager Impulse in March. She's here today to share a beer recipe that directly connects to her book.
Fermentate for the Future
My novel Dissension is set in a world where the Church exploits genetic technology to lead the remnants of humanity as they struggle for survival in the last inhabited city. The population is beginning to recover, and although life still isn't easy, people make do and even flourish.  And while their food remains quite simple, they're human, so they do have beer. It's known in the book as "fermentate." I enjoy home-brewing, so naturally when Beth invited me to do a Bready or Not guest post, the first thing I thought of was a beer recipe. After all, beer is liquid bread!
Here's my recipe for "Future Fermentate" (an India Pale Ale, because they keep well in the heat.)
Equipment you'll need: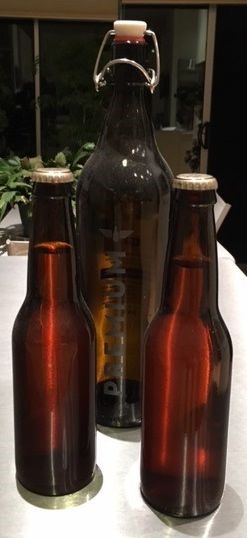 A big pot
Two 6 gallon buckets (food grade, please!) with a hole in the lids..
a rubber stopper that fits in the hole, with a hole drilled in the stopper
airlock
siphon with an attachable bottling cane
thermometer
bottle capper
sanitizer
You can get fancy with a hydrometer to check your specific gravity, but I never bother. Eventually you'll need some bottles and caps too. Fortunately those are easy to come by—just drink some beer.
Your local home brewing store will be happy to put a kit together for you, and they're easy to find online too. A decent one will set you back $50-$100, but it will last forever.
Ingredients :
If you tell your home brewing store you're making an IPA they'll know what to give you.
7 lb light malt extract
2 lbs two-row pale malt
1/2 lb cara-pils malt
1/2 lb medium crystal malt
(Get these crushed together and put in a steeping bag at the shop)
1-1/2 cup brown sugar
1 package Burton water salts (optional)
1 oz Bullion or Target hops
1 oz Northern Brewer or Wye Challenger hops
1 oz Kent Golding hops, divided in half
Ale yeast (I like the liquid kind best)
Brewing Day: the process is pretty straightforward but takes a couple of hours. It goes better if you drink some beer while you're doing it.
Heat 1 gallon of water until steaming (about 155-170 F). Put in the bag of crushed grains and steep 20 min off heat.
While your grains are steeping, sanitize your bucket and other equipment according to the instructions on the iodophor.
Rinse the steeped grain bag with another 1 gallon of water, remove the bag from the liquid, add 1 c. brown sugar and the water salts if you're using them, and bring the liquid to a boil.
Turn off the heat and add the malt extract. Stir until all the extract is dissolved in the water, then bring back to a boil for 10 minutes.
Add 1 oz Bullion or Target hops, and boil 40 minutes.
Add 1 oz Northern Brewer or Wye Challenger hops and boil 10 more minutes.
Turn off heat and add 1/2 oz Kent Golding hops.
Let the liquid (this is called "wort" at this stage) cool until it's under 100 F (hotter will kill the yeast). You can set it in an icebath in your sink to make this step faster.
Pour the wort into the sanitized plastic bucket and add cold tap water to make a total volume of 5 gallons.
Add the yeast and give a good swirl to mix it in.
Attach the sanitized lid with the stopper in the hole and insert the sanitized airlock into the stopper. Fill the airlock halfway (I use vodka but water is fine).
Put the bucket somewhere it can sit out of the way for a week, ideally at not-too-warm room temp. Spare-room bathtubs work great. You should see the airlock start to bubble by 12-24 hours as the yeast goes to work and the beer starts fermenting.
The bubbling should stop in less than a week. You have a choice here: either go straight to bottling, or preferably, use a sanitized siphon to "rack" the beer into a second sanitized 5 gallon container. Leave the gunky stuff in the bottom of the first bucket. Add 1/2 oz Kent Golding hops into the second container (if you aren't using a seconday container, throw these hops in after step 10 instead).(If you didn't read the recipe ahead and it's too late, don't worry. Drink some beer). You might or might not see more bubbling in the airlock for a few days. You can leave the beer in the second container for a few weeks.
To bottle your beer:
Sanitize the siphon and two cases of bottles.
Dissolve 1/2 cup brown sugar into a cup of boiling water.
Siphon the beer into a sanitized 5 gallon container
Add the dissolved brown sugar and stir well.
Connect the sanitized bottling cane to the siphon and start bottling. Leave an inch or two of headspace in each bottle.
Cap the bottles.
Let the beer age for at least a week at room temp (3-4 weeks is better).
Refrigerate, and enjoy!
---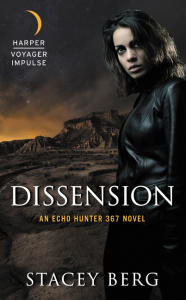 For four hundred years, the Church has led the remnants of humanity as they struggle for survival in the last inhabited city. Echo Hunter 367 is exactly what the Church created her to be: loyal, obedient, lethal. A clone who shouldn't care about anything but her duty. Who shouldn't be able to.
When rebellious citizens challenge the Church's authority, it is Echo's duty to hunt them down before civil war can tumble the city back into the dark. But Echo hides a deadly secret: doubt. And when Echo's mission leads her to Lia, a rebel leader who has a secret of her own, Echo is forced to face that doubt. For Lia holds the key to the city's survival, and Echo must choose between the woman she loves and the purpose she was born to fulfill.
Amazon | Barnes & Noble | Harper Collins
---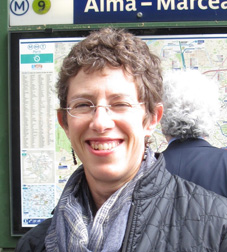 About Stacey:
Stacey Berg is a medical researcher who writes speculative fiction. Her work as a physician-scientist provides the inspiration for many of her stories. She lives with her wife in Houston and is a member of the Writers' League of Texas. When she's not writing, she practices kung fu and runs half marathons. She is represented by Mary C. Moore of Kimberley Cameron & Associates. You can visit her at www.staceyberg.com.
Read More